"Baby It's Cold Outside… " This past week living in the Northeast has been a bit chilly so I finally broke out my favorite wintertime piece – a cozy, cable-knit sweater. Pair an ultra feminine piece, like this vintage satin slip, with your favorite chunky cable knit sweater and a pair of cowboy boots. It's the perfect marriage of boy meets girl.
The iconic cable knit is a wardrobe essential, very functional (so warm), but at the same time very chic.
Although ubiquitous today, the classic cable knit sweater has a deep rich history, originating in the Aran Islands off the Irish coast. For hundreds of years it was worn primarily by fishermen and was known as the Aran sweater or the Fisherman sweater. The original Fisherman sweaters were made from undyed wool, hence the cream color, which I love. Today these sweaters are made all over the world, but the best and warmest ones are still made in Ireland. The simple but well-crafted knit, or rope-like pattern, and the raised texture is the definition of casual elegance.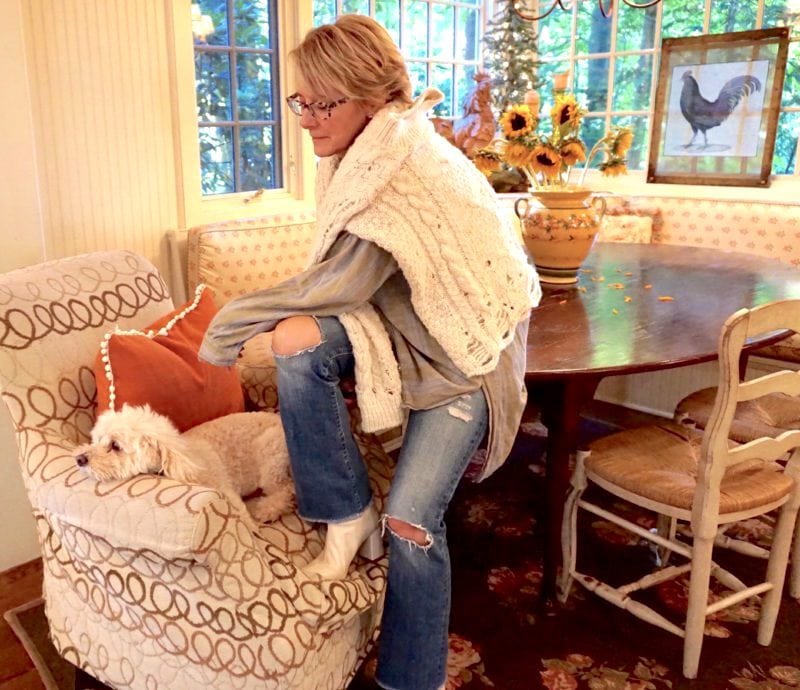 Throw your cable knit sweater over your shoulders for some added warmth and texture. The cream sweater, booties and pooch :)) compliment the denim jeans and blue flannel shirt.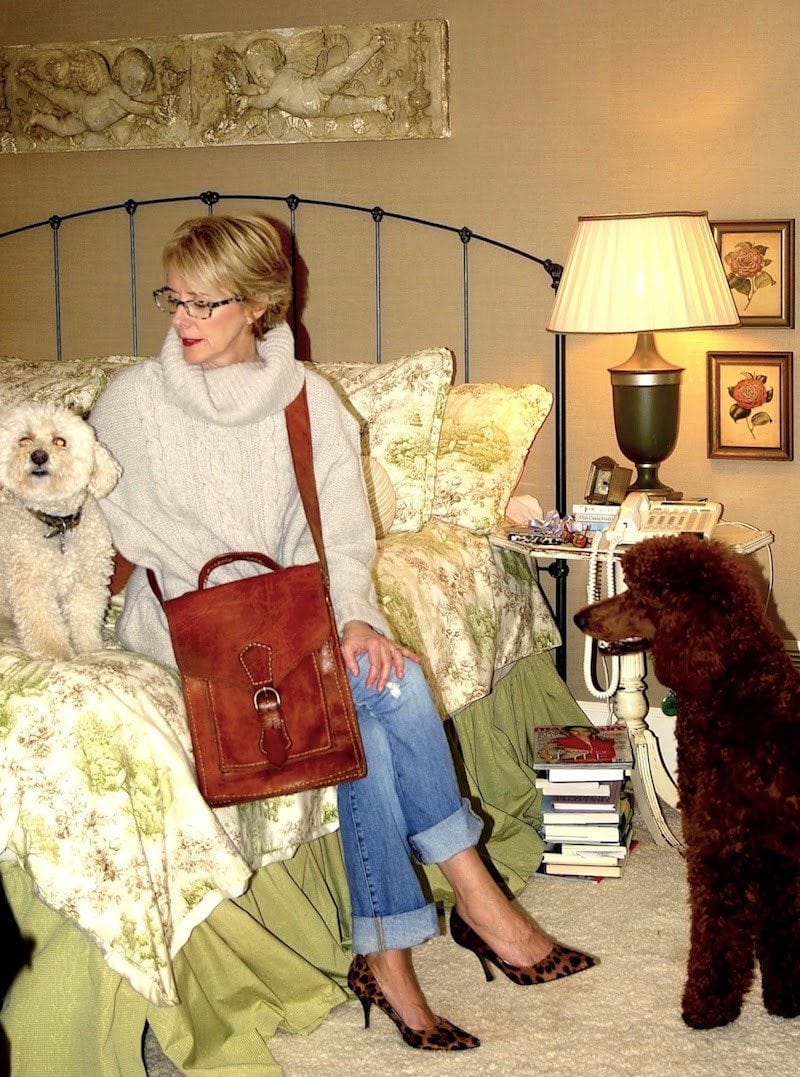 Add a twist to the sweater and denim jeans combo by adding a pair of leopard pumps and a rugged messenger bag.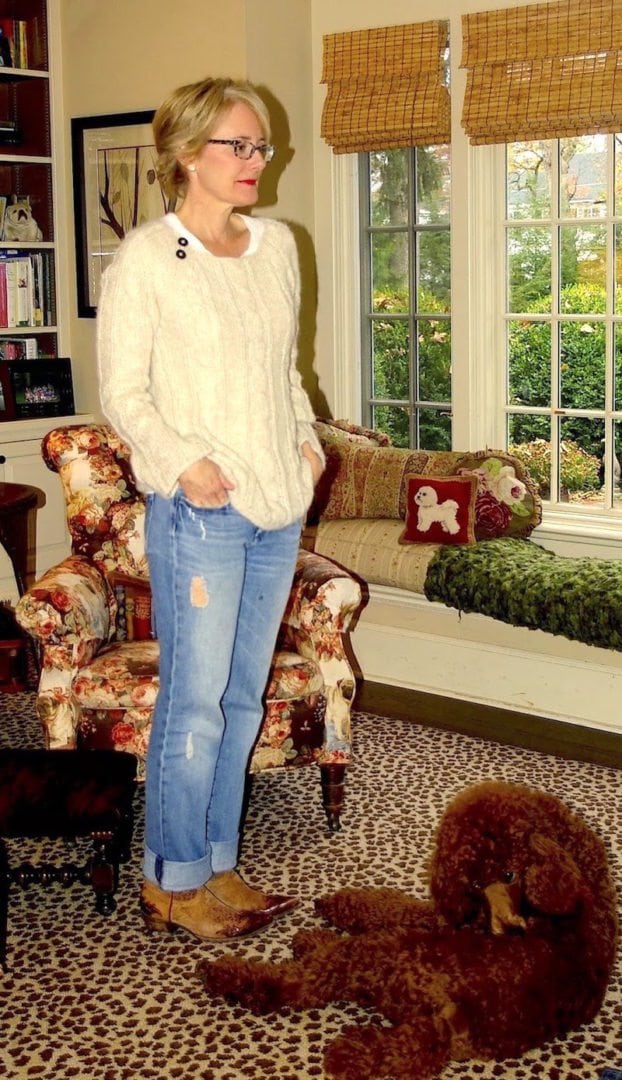 Do you have a go-to winter look? This is one of my favorites… a cable knit sweater over long sleeve t-shirt with jeans and cowboy boots.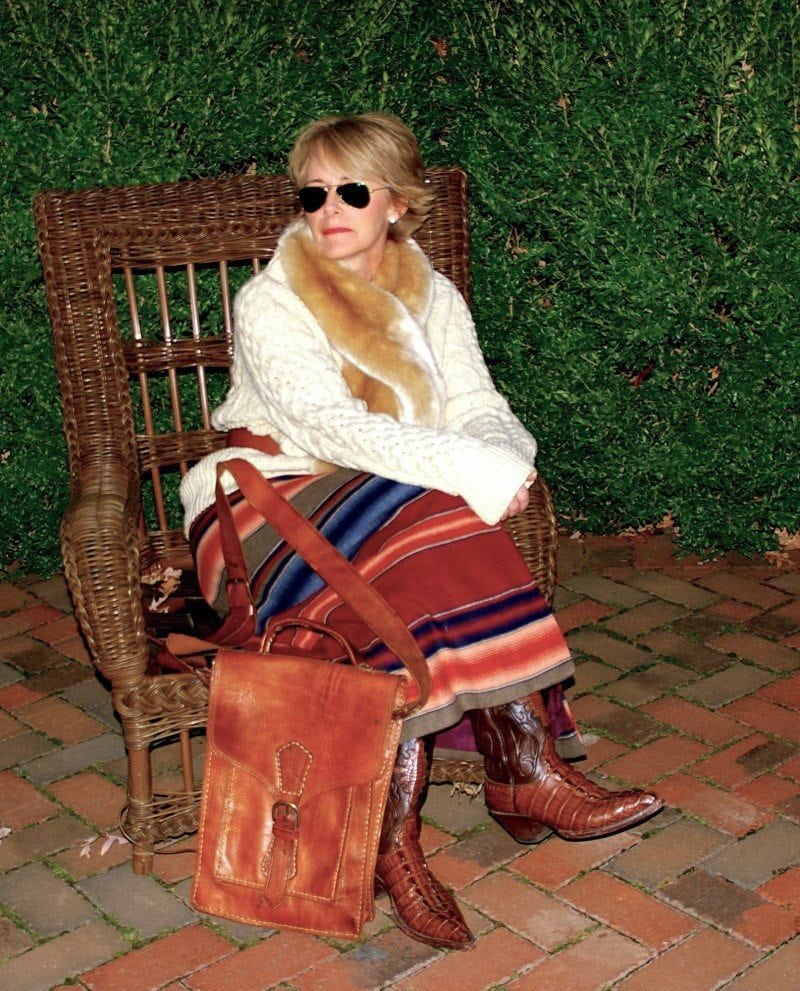 Throw a belt around your sweater. Because oversized sweaters tend to be boxy, I often belt them so it gives me a waist. How great does this sweater look paired with my wool blanket skirt, boots, saddle messenger bag and faux fur scarf?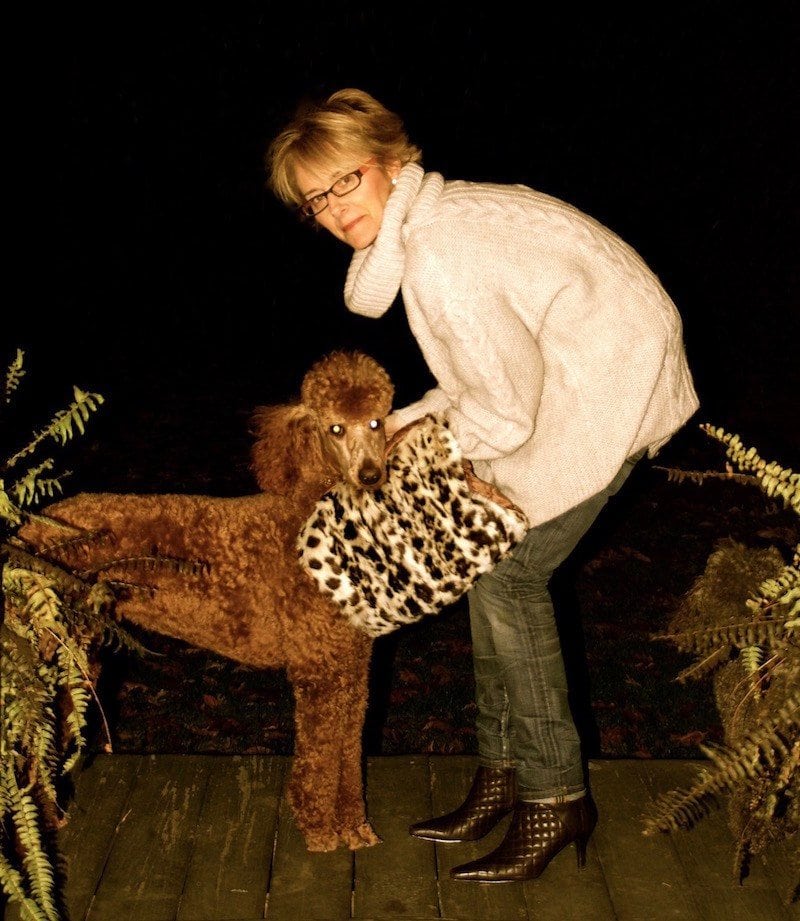 Add leopard print to your basic sweater and jeans like I did with my vintage, leopard muff handbag.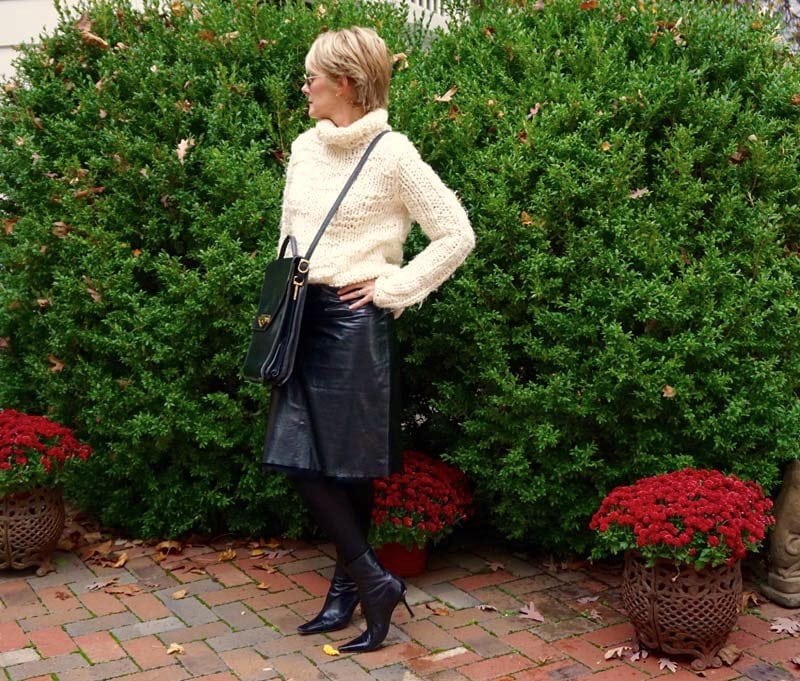 Pair edgy with casual. The combination of a black leather skirt, black tights and boots and an oversized chunky sweater is unexpected but so stylish.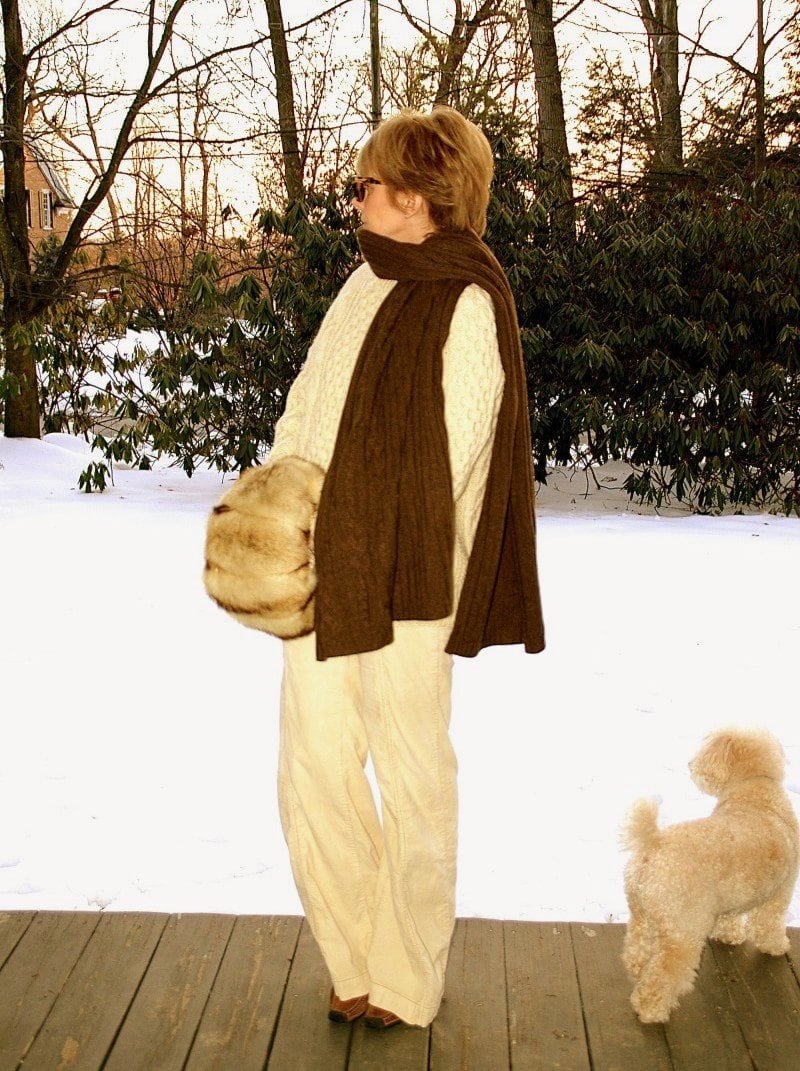 A monochromatic look is always a style winner. I've paired corduroy pants with a cable knit sweater. To make the outfit more interesting I layered on a brown wool wrap and a vintage muff handbag.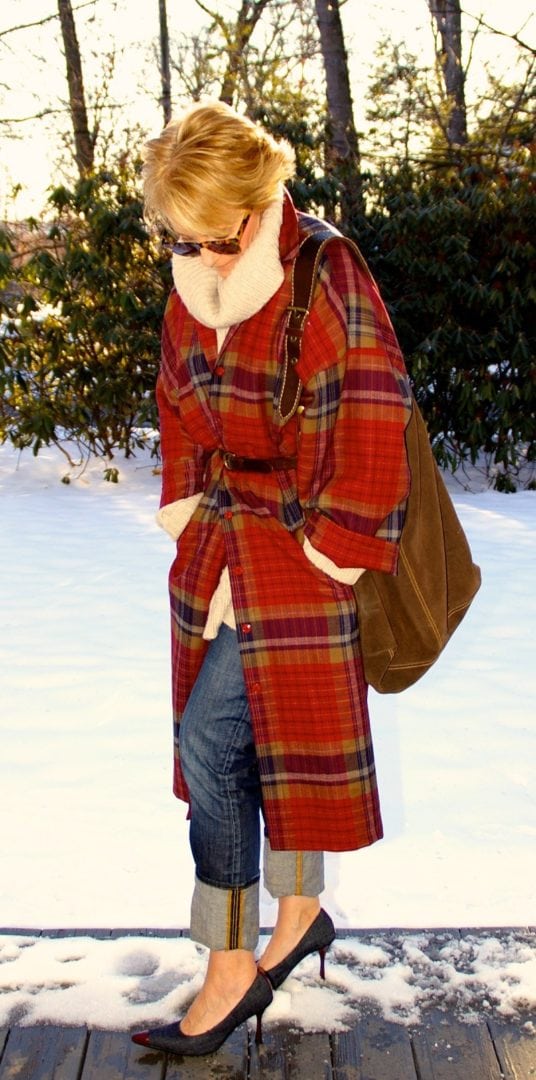 Layer over your sweater and throw a belt on to give your look shape. This vintage wool duster is the perfect over-the-sweater piece.
The cable knit Fisherman sweater is that perfect "borrowed from the boys" piece.
It can be dressed up, dressed down, layered and paired with just about anything – and that really comes in handy when you have to bundle up!