Darlings, it's the question everyone's been asking all week. "Did you watch the Royal Wedding?" Oh it was pure magic! Your's truly was left off the guest list. My arrival would have caused quite a stir and rendered the attendees gobsmacked! You see, back in the mid 70's, Prince Charles and I had quite a romp in Windsor Castle.
Let's just say, Camilla must be a very happy woman.
Now, back to the Royal Wedding! Oh the dresses! The fascinators! These guests clearly got the memo on how to dress for this event. It got me thinking… What would I have worn to such an affair?
I knew I wanted a midi dress, something in a soft pastel or floral, and I wanted a sleeve. In a word, "ladylike." I took my cues from Kate Middleton for this look, who always looks polished and appropriate. With Kate as my muse, I began my search for a "princess worthy" dress.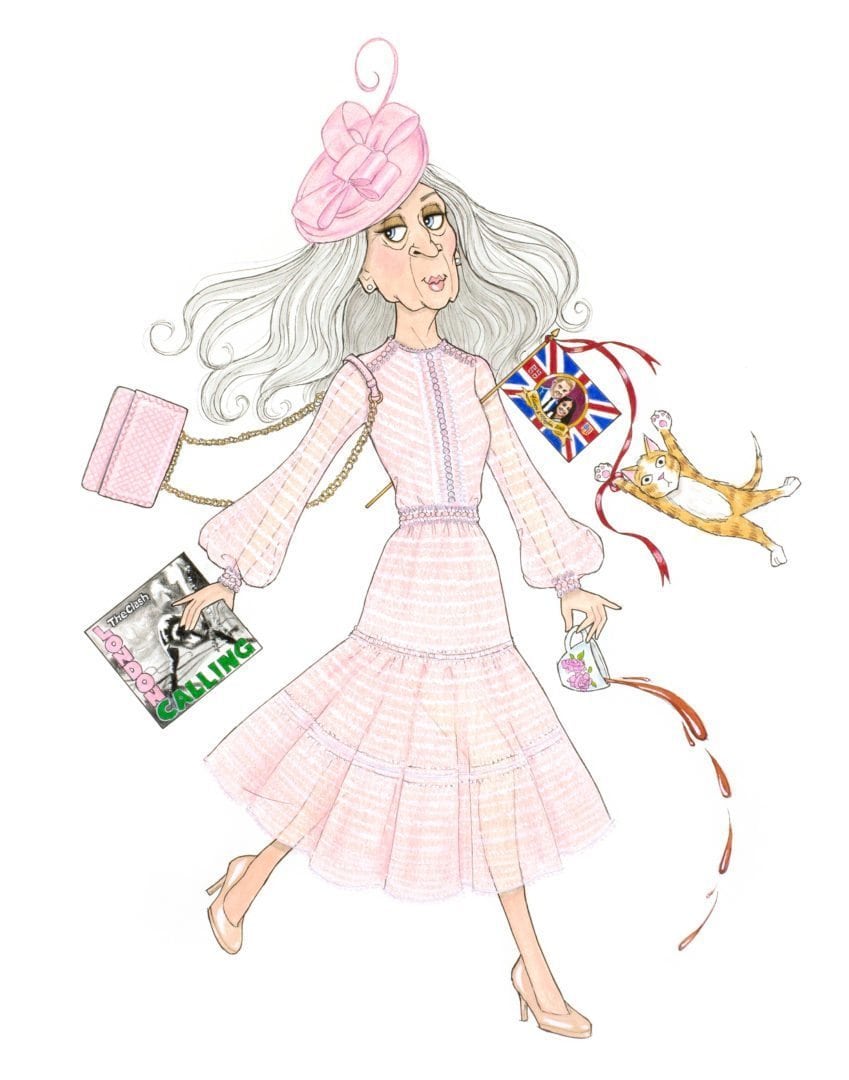 I pictured myself having tea with the queen and eating crustless cucumber sandwiches under a canopy of roses. After finding many suitable dresses that checked off all my boxes, I chose a lovely confection by Costarellos. They're known for their uber feminine dresses. I even spied a Costarellos dress with red trim at the Royal Wedding. My Cordone Lace Midi Dress with it's pale pink lace, jewel neckline and A-line silhouette could easily go from a garden party to a castle celebration.

No Royal Wedding attire would be complete without a fascinator! Since I wore my silver locks long and flowing, I opted for a larger size fascinator by Jasper Conran. If I was wearing my hair in an updo, I would have chose a slightly smaller one. It's all about proportions, Darlings! Not sure about how to wear this delightful headgear? Study photos of how Kate Middleton, the master of the fascinator, wears hers. A little tilt to the side of the head and off you go!
I don't know about you, but I did tear up several times, watching the Royal Wedding. For that reason alone, when going to such an event, one needs a lovely handbag to hold all the Kleenex you'll be using! What do you think the Queen always stuffs in those handbags of hers? According to one Royal Insider, it's full of tissues and Altoids! For my bag, I chose the Olympia Chain Bag by Bottega Veneta. With it's classic shape, this versatile bag can easily go from a lady-like tea party to a casual jeans look.
If there's one fashion trick Kate Middleton knows it's how to create a long, lean sophisticated look. For years now she's worn the L.K. Bennett "Sledge" Pump. In patent leather, these nude pumps have a sleek platform and look professional enough for the boardroom and elegant enough for High Tea with a Dutchess.
An elongated silhouette is just a shoe away!
So my fashionable friends, I do hope you don't get your knickers in a twist the next time you have a dressy daytime event. Try for a feminine look fit for a royal and Bob's your uncle! Darlings… That's one of the fun British phrases I learned from Charles… "You're ready to go!"
Cheers Loves,
XOXO, Hildie