Darlings! Oh how I adore an evening at the beach, sipping prosecco and sitting around a bonfire with friends. Those chilly summer nights have me pondering that fashion dilemma we all face: how to make a smooth transition into fall.
No one wants to be perspiring, wearing velveteen on a warm September day, and some summer looks appear terribly wrong when the weather begins to shift. I'll let you in on my favorite transitional piece that you may already own. Why it's a pair of white jeans, Darlings! They are the ultimate seasonless wardrobe staple. If you didn't already know, white jeans, like the ones I'm wearing from J Brand, are so versatile and ideal for any casual or dressy look. Crisp and clean, these jeans will make any ensemble pop!
I know what you're saying, "But Hildie, surely you don't mean wearing white past Labor Day!"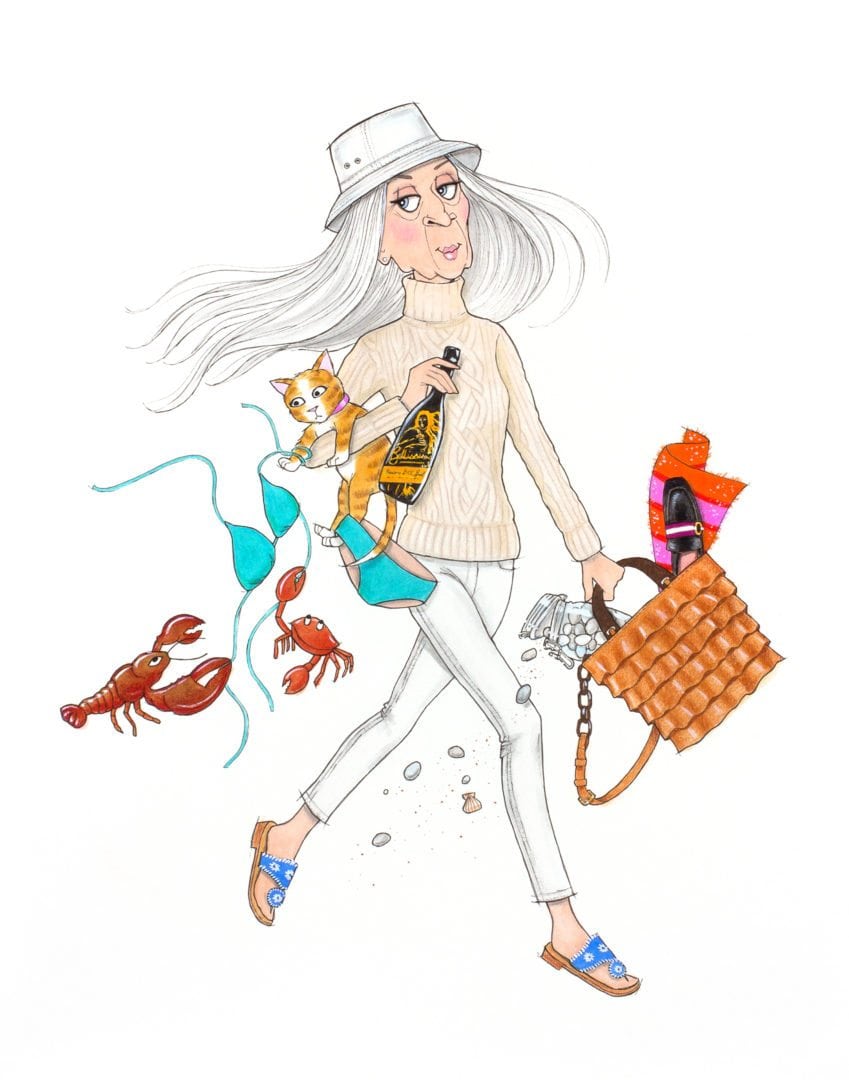 My dear fashionable friends, if you are over 50, then it's high time you wore them! Fashion rules are meant to be broken, and this rule's stuck with us since we were little girls, for goodness sakes! Why even Emily Post has changed her tune!
Do you remember that scene in the movie, Something's Gotta Give, when Jack Nicholson asks Diane Keaton, "What's with the turtlenecks? I mean, it's the middle of summer." Her reply was, "Well I guess I'm just a turtleneck kind of gal." Didn't she look sensational in her cream sweater and white jeans?
My cotton turtleneck is from Land's End and is perfect as a transitional piece. The cream and white combo is a fresh look and is ever so chic.
My Jack Rogers sandals are a summer classic you'll wear for years. If I swap them out for a pair of Bally Livilla Loafers, I'm going from late summer beach combing to apple picking in the fall. It's that simple! Now add a black leather jacket and heeled boots, and you're looking fabulous for those chilly months ahead. Try a pointed toe kitten heel and statement earrings for an easy, elegant dressy look.
A tote bag is so easy in the summer. I can carry a swimsuit, a jar of organic honey from the farmer's market and a bottle or two of Bellissima. I do adore a bag that can carry all my essentials (wine) and look great for fall, too. With it's soft, buttery brown leather, this Michael Kors Stanwyck tote adds just the right amount of lux to any ensemble.
So my Darlings, don't store those white jeans away until next summer! Post Labor Day, wear them with confidence, knowing you look hip, cool and ever so stylish! Emily Post would be proud!
Cheers Loves!
XOXO, Hildie