I feel like you know me well enough that I can tell you this. Last night I told the "invisible man" in my house to take a hike and never come back. It sounds bizarre, I know, but when Annie and I are sitting on the sofa in the living room, she often stares intently at something on Keith's wall. She's not looking at Keith but at the old Spanish chair to the left of him. It's like someone's sitting there. Then "it/they" get up and move around the end table and stand behind me. Most of the time I blow it off, but sometimes I find myself looking where Annie's eyes are moving, hoping to see a flying bug, but I never see anything. Last night it creeped me out. 
If I'm going crazy, at least Annie's coming with me.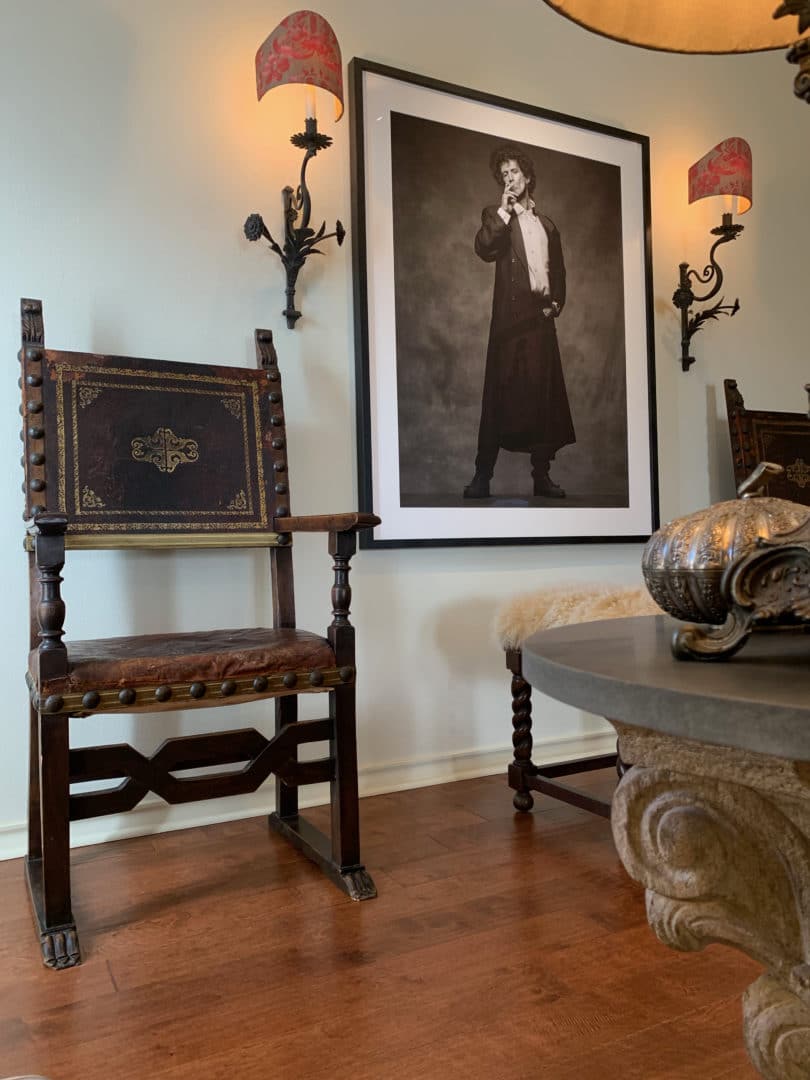 The chair in my current house Annie seems fixated on… When she sees something there she sits upright, ramrod straight posture, eyes locked on whatever it is. The creepy thing is her eyes move like someone is getting up out of the chair and then walks behind me.
This is not the first time I've been aware of possible haints. The first time it happened I lived in the infamous Spy House on the Hill (San Antonio's name for the house, not mine), and I became aware of a group of "women" in the master bath who wanted me to "do something." I never saw or heard them, but somehow I knew they were female.
These incidences only happened when I was wet, fresh out of the shower and I always felt like something awful would happen to me if I gave in to them. That's as far as I can explain it because I would stop it by leaving the room. (Yes, I know, we could have moved, but this was one of the all-time most fabulous houses. Besides, most every house has a drawback… a bright streetlight outside your bedroom window; you don't like the neighbors… )
My first husband, Philip, was a scientist who dealt in absolute proof, told me, "I know you're not crazy, and I believe you believe it, but until I have that same experience… "
Then there was our friend, Jerry, who house sat for us once when we were out of town. When we called to check on things, Jerry was packing his bag, moments from running…. yes, running… out the door. When Philip asked if something was wrong, Jerry said, "I don't want to talk about it. Don't ever ask me about it, and I'll never house sit again!" Then he hung up. Jerry and Philip had been friends since they were 13-years-old. We knew him. Something happened to him in that house.
Fast forward to after Philip died. By then I'd experienced these "events" 75-100 times over the 17 years Philip and I lived there together. And then… One day I'd had enough! I felt the need to confront them, head on, but not in the bathroom.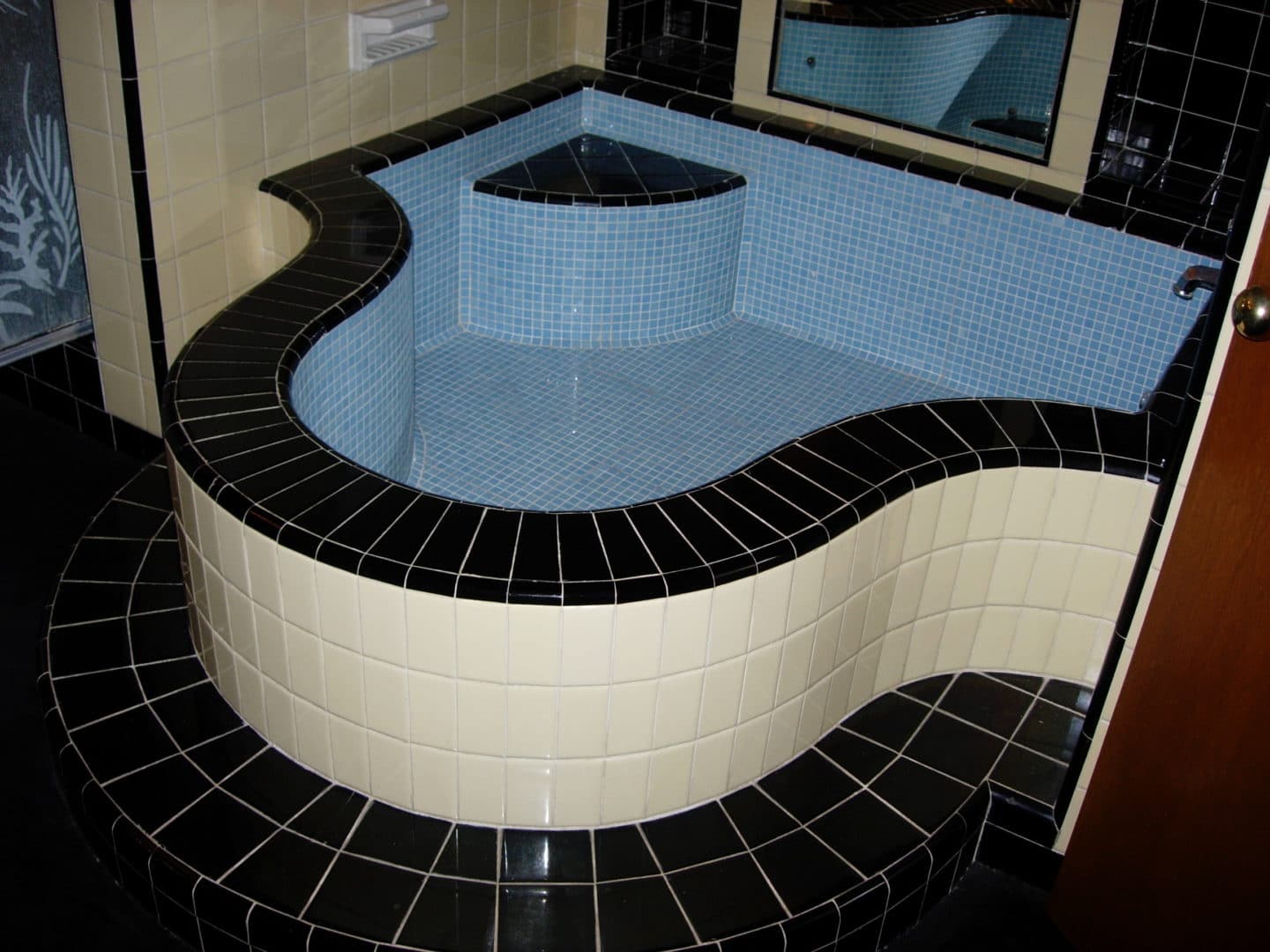 The only photo of the bathroom in the Spy House I can find at the moment. It was taken right before James and I moved so all my pretty things around the 1930's tub were already packed. You can see a little bit of the shower door to the left of the tub.
Naked and soaking wet, I got out of the shower and walked into Philip's dressing room and sat down, crosslegged, on the floor. I was angry this kept happening and in my loudest, nastiest voice I told "them" if they wanted to talk to me, they could do it here and now. "If not, get the f*** out of my house and leave me alone!" These incidents never happened to me again.
A few years after Philip died some friends from Washington, D.C. came to visit me. The husband's back was in bad shape so I offered he and his wife the master bedroom with my brand new firm mattress, and I stayed in the guest room. The next morning their teenage daughter (who slept upstairs) came bounding into the kitchen, all excited, saying, "Wait til you hear what happened to mom in your bathroom!" Yep… She had the same experience. They moved to a hotel for the rest of their stay. They were both PhDs. She was one of the countries foremost authorities on mass transit systems. Solid, smart… nothing kooky.
Fast forward another six or seven years. I'm newly married to James, logical, an attorney. I returned from an early morning water aerobics class to find he hadn't left for work. He was waiting for me. He was visibly alarmed and shaken. You guessed it. The same thing happened to him… in the bathroom. BTW, these incidents were something I'd shared only with Philip.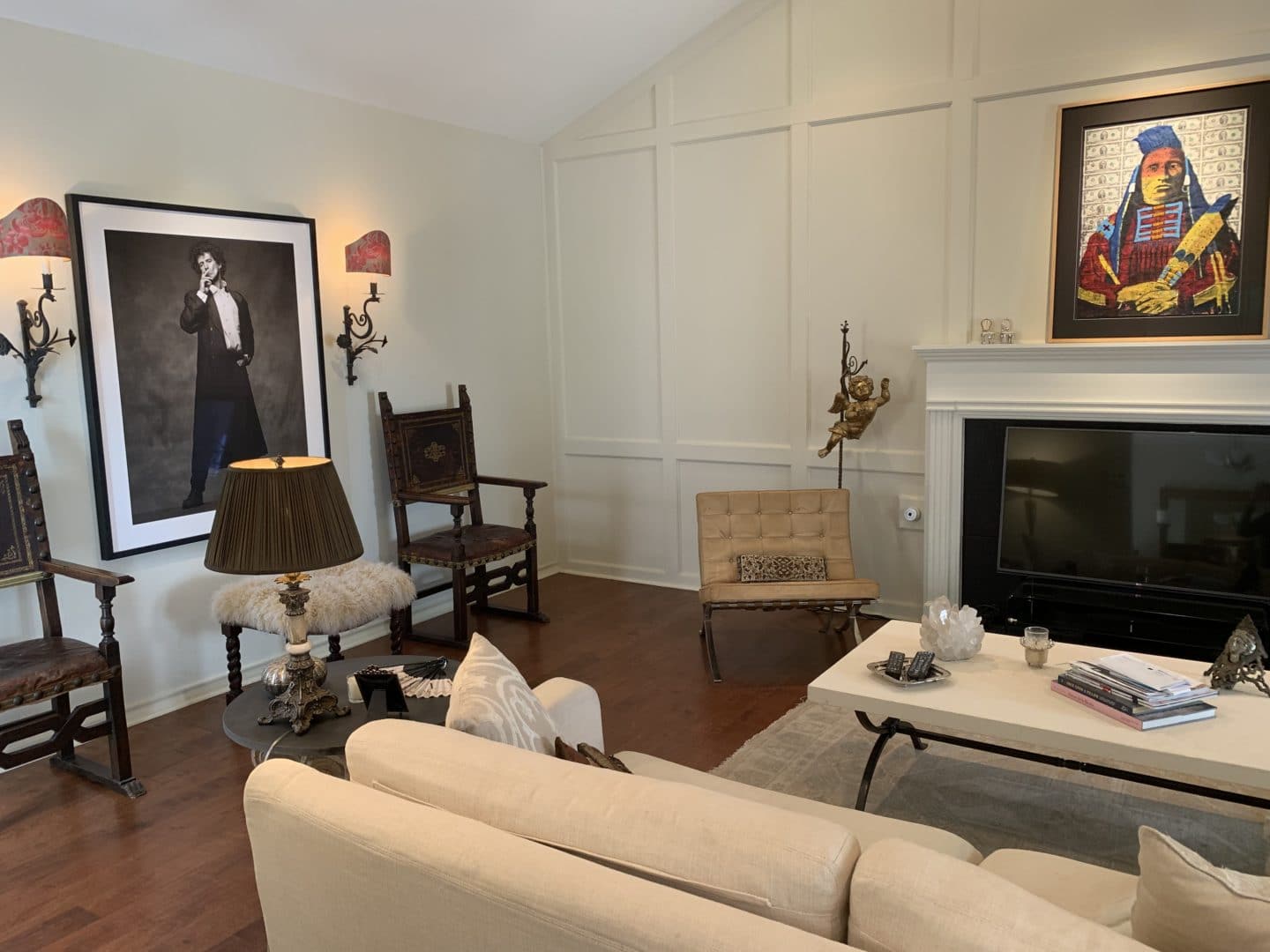 Annie always watches "it" move from the chair to the left of Keith, around the end of table with the lamp and stand behind me. 
About last night and a dozen other nights in the last year… I'm not sure what to think. Could my house in this sleepy suburban community have a haint? 
Perhaps I should make my next post about my friend, the catholic priest, the Comanche Indians and how I got rid of "them," for good, in the Spy House on the Hill.