I've always thought of Paris and New York as the fashion capitals of the world, but after my recent trip to Florence, I've added the Renaissance city to the list. Florentine women buy fewer clothes than we do, but they buy the best they can afford. They take good care of their things and buy new pieces with the old ones in mind, which is what I do. I had another topic planned for today's Fashion Friday post, but decided the clothes I wore today would be a great way to illustrate this point.
The oldest thing in my closet–and I still wear it a lot–is the blue and white striped, French Cuff, dress shirt I bought when I was in my early 20's for my first husband.
My color palette's always been black, white, grey and taupe… I don't consider blue jeans a color. They're a way of life! Today's outfit contains the only "brown" clothes I own.
In chronological order, here are the brands and how long ago I bought each piece. Some of these pieces were the only thing I bought that season.
When I left the house this morning it was in the upper 40's. I knew my sweater and cashmere wrap might not be enough, so I reached for the brown, suede, Worth jacket I bought 13 years ago. Not only did it tie everything together, it was the perfect choice for layering.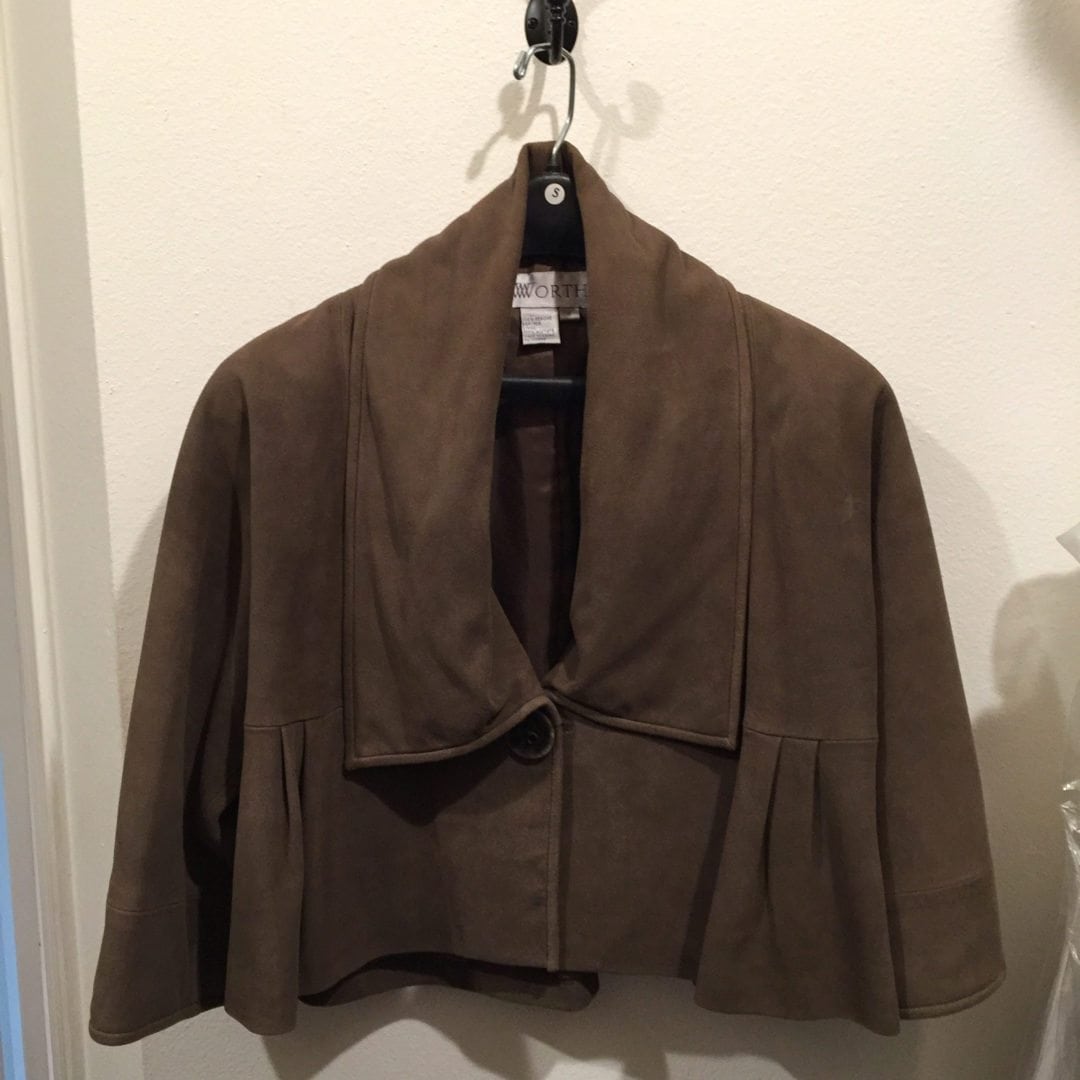 My brown, Brunello Cucinelli sweater is six-years-old. I LOVE Cucinelli, but can rarely afford it. I think my friend, Tanji Patton, and I were going through our Cucinelli "on sale" phase. I remember wearing this sweater when she and I went to lunch one day. (Men always freak out when women can remember what they wore!) The bottom of the sweater has an asymmetrical hem, which keeps it modern.
Here's a photo of me and my friend and NYC hairstylist supreme—Juan Carlos Maciques—just after he gave me this fab haircut! I'm wearing the same Brunello Cucinelli sweater with a different pair of pants… olive/grey suede, also Cucinelli… on sale.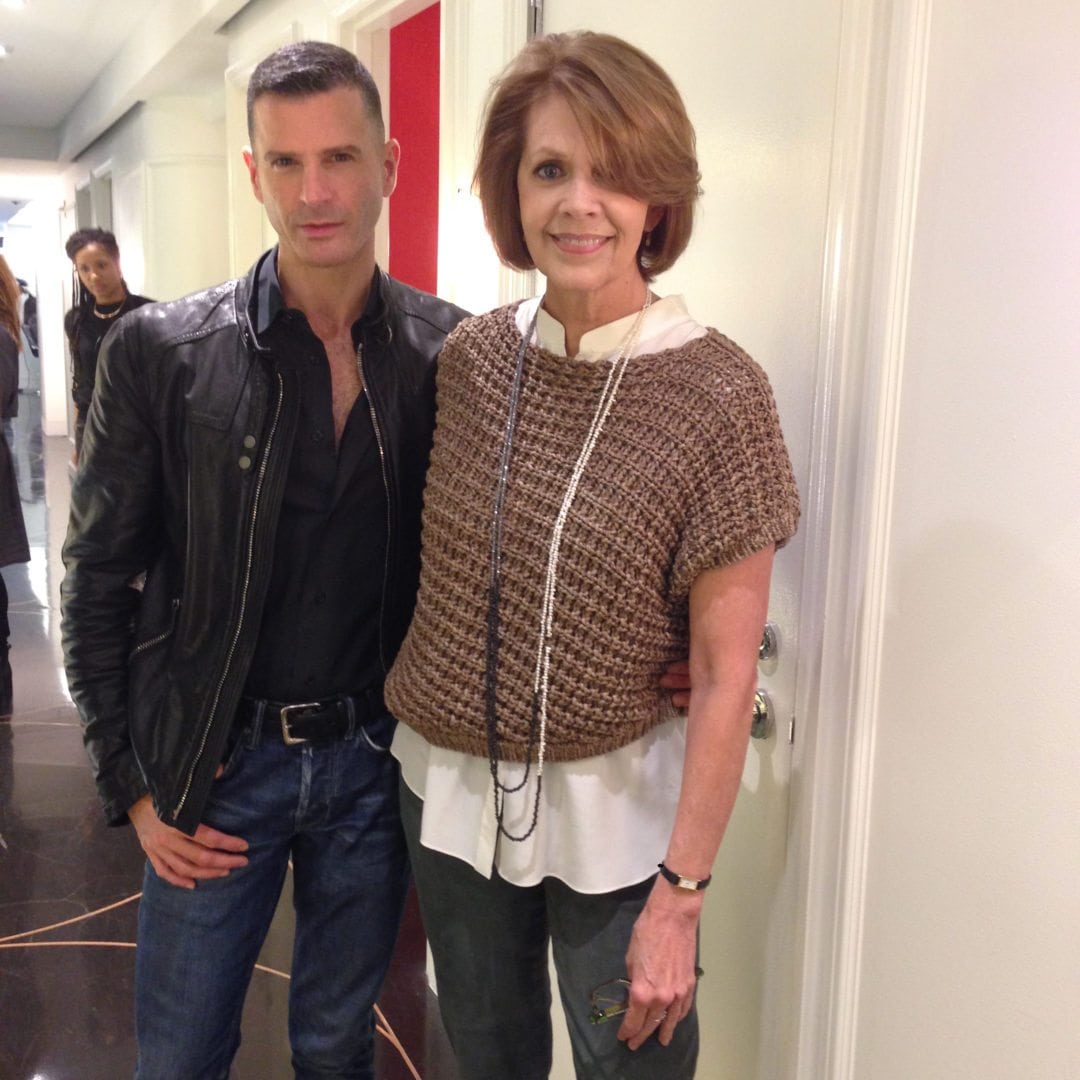 Speaking of Juan Carlos, FYI, beginning November 14th, he will be at the Marie Robinson Salon New York. As part of their "collaboration," he will also be doing a six-to-eight-week rotation at her new Miami Salon. There's a reason why the celebs and the magazines go to him… HE'S THE BEST! I've gone three months without one of his haircuts, and my hair still looked great! It was just longer!
The brown Elie Tahari pants I wore, today, were the first skinny pants I bought. I love their "waxy" texture. I bought them five-years-ago. My tan, suede, ankle booties are Saint Laurent—one of the few brands that carry narrow widths—and my silk blouse is Theory. Both about four-years-old.
Now for the new stuff!
My tan cashmere and racoon wrap is from Falconeri, and my black leather, antique cameo bracelet from Anna Porcu. Both I bought in Italy this fall. I JUST CAME FROM SEEING ANNA!! She's in San Antonio, November 9-12th, for a trunk show at AnArte Gallery on Broadway and Sunset. Can't wait to catchup with her, tomorrow, for margaritas! Her pieces are one-of-a-kind beautiful.
Today's outfit is a great study in buying good pieces, over time, in a harmonious color palette. I'll still be wearing some of them in 20 years! Not to sound like a broken record, but if you buy one nice piece in the spring and the fall, and amortize the cost over the lifetime of wear, it's a smart way to buy wonderful clothes you'll have forever.