This outfit makes me think of something Megan Markle—Prince Harry's bride—would wear. Trench coats are such classics, and you can wear them with everything. But this olive trench steps things up a notch, because it's not the same old tan trench coat we've seen forever, and it looks so smart with black.
Just so you know, tan is not my color. Everyone tells me it would look great with my auburn hair, but… No can do. I've tried, more than once, to wear tan/beige, but it winds up hanging in the back of my closet unloved and unworn.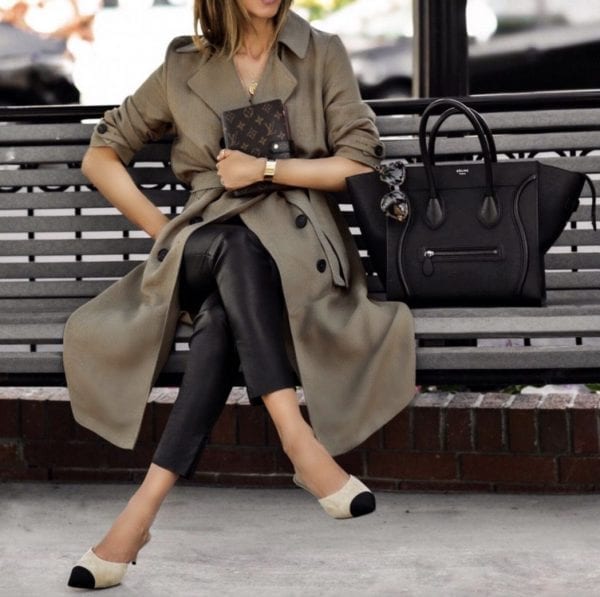 This gorgeous olive trench lights up all of my buttons, and it's looks particularly great styled like the outfit in the photo. And by belting your trench coat, it elevates even a casual outfit worn underneath.
Wear your trench over workout clothes with sneakers, black leather pants or leggings and a long-sleeved t-shirt in black, white or even plum.
Or for a dressier date night look, add a pair of neutral colored, Chanel look-alike "cap toe" flats like the ones in the photo or a pair of comfortable, black flats. An instant classic!

This tote is almost big enough to be a weekender bag. If you don't want a bag this big, there are lots of smaller, black bags that will keep this outfit looking polished and sharp. The model in this photo also has her Louis Vuitton notebook and a large pair of black sunglasses to complete the look.