This isn't your typical Fashion Friday blog so don't be alarmed… I'm not suggesting you go out and buy an outfit like the one I'm wearing. When I came across this old photo of me and couldn't stop laughing, I had to share it with you.
Have you ever tried something on, hoping your spouse or girlfriend would validate your purchase?
While I was going through chemotherapy for breast cancer, because my immune system was so low, I rarely ventured out of the house except to a doctor's appointment or to church. There were many days I didn't have enough energy to even get out of bed. One of the few times I went out, I wanted to do something that made me feel normal… and I came home with two pairs of shoes that were so not me.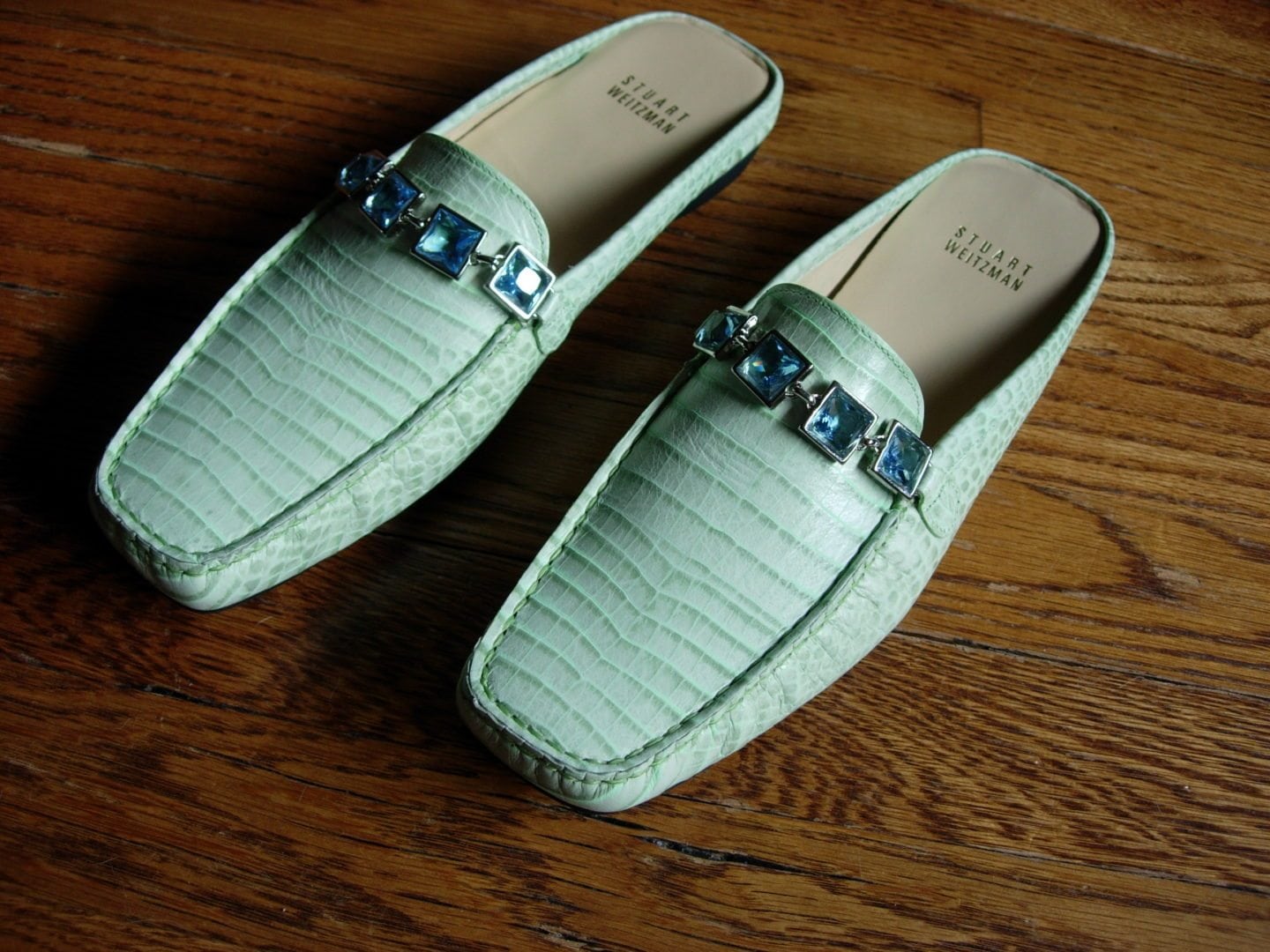 One pair was lime green, fake crocodile with thumbnail-sized, blue rhinestones across the top, and they smelled like something had crawled up and died inside of them. The other pair were glow-in-the-dark sneakers. Except for some white Keds, I didn't own sneakers then. Both pairs were ahead of their time. It was 2004. Now these shoes are tame compared to what's on the market.
When I showed them to my husband, his response was, "Who are you, and what have you done with my wife?" Without taking a breath he then said, "Those look like clown shoes!"
The next night my Bible study group surprised me with an "End of Chemo" party. I think they brought cake—I was "on drugs" so I don't remember—but I do remember my friend, Mary Jane, brought 25, heart-shaped, red foil balloons. Undaunted by my husband's remarks about my shoes, I showed them to my girlfriends.
Anyone—but me—could see they were stupefied by my shoes, but my friend, Linda, diplomatically broke the silence by saying, "They'll look great with the right outfit."
The next morning—still feeling the effects of eight rounds of chemo and a pharmacy full of other drugs—I put together "the right outfit." Then I called another girlfriend and asked if she'd come over and take a picture of me wearing it.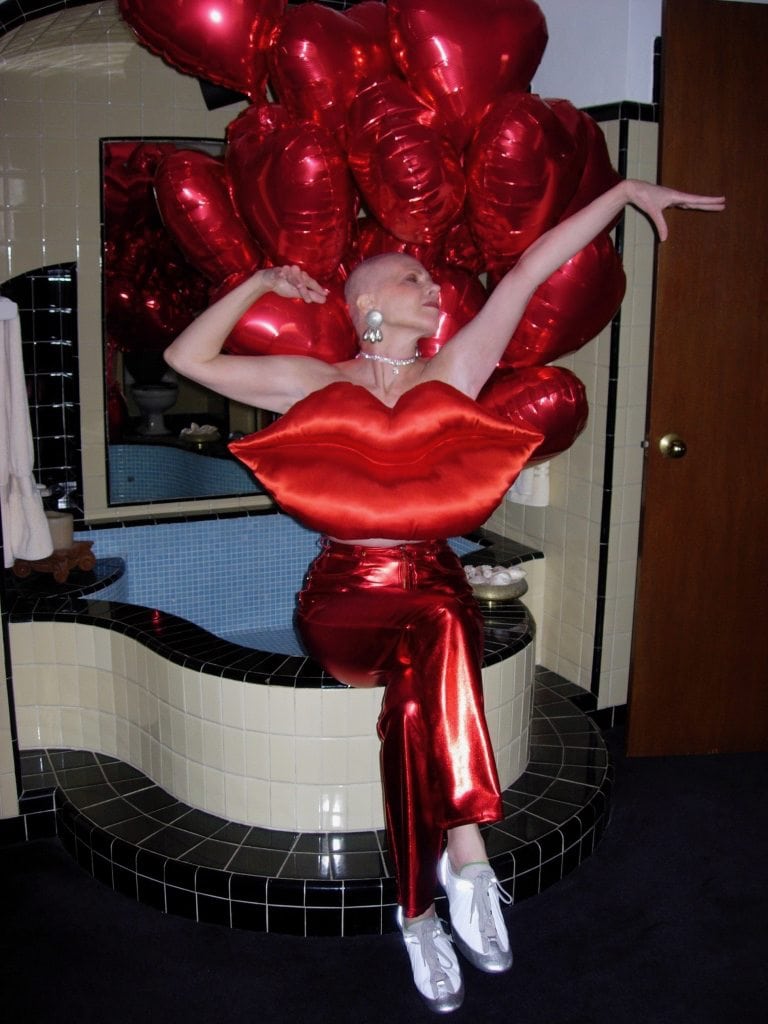 Did I tell you I got a drama scholarship to college?
When I opened the front door, there I stood, in all my post chemo splendor: bald and glassy-eyed with 25, heart-shaped, red foil balloons stuffed down the back of matching, red foil pants. If that wasn't strange enough, I was naked from the waist up except for a giant pair of red silk lips DUCK TAPED over my mastectomy scar… and I was wearing my clown shoes.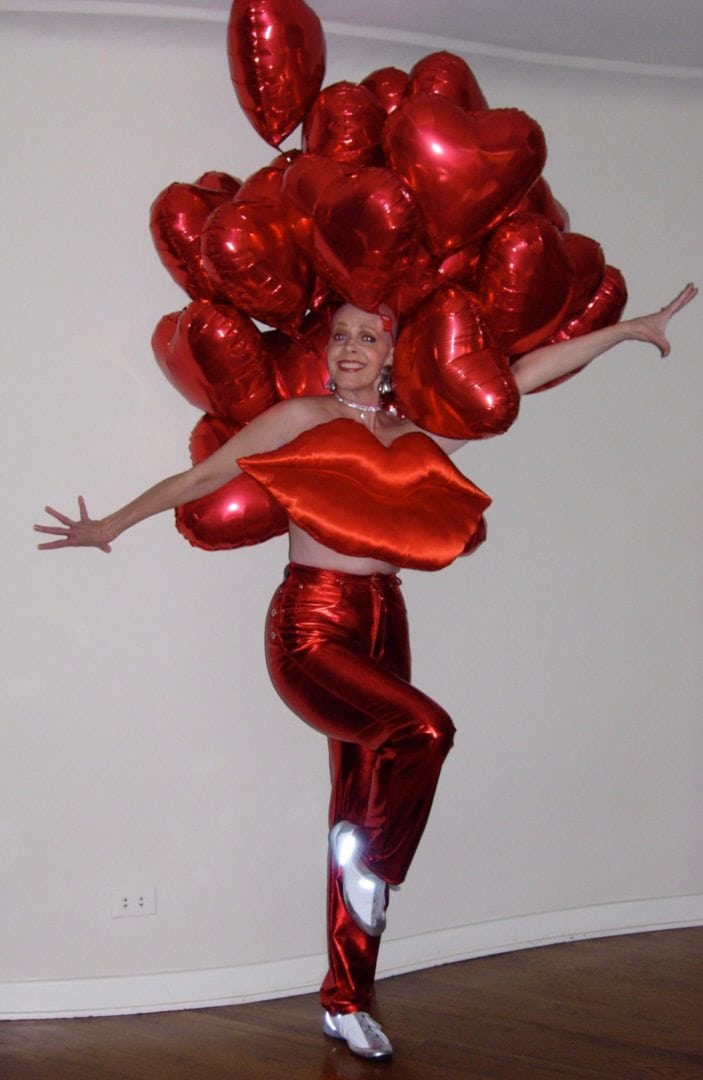 TELL ME THIS WOMAN DOESN'T LOOK LIKE SHE'S ON DRUGS!
My friend just stood in the doorway. Like my girlfriends the night before, she was stupefied… By now I knew the look… I'm guessing she was stifling the urge to scream, run down the driveway and holler for help. Would you believe she never uttered a word… NOT ONE WORD… about my strange outfit?
I have the best friends! When faced with a crazy lady, they smiled and acted like what they'd stumbled into was an everyday occurrence.
I hope none of you ever have to take chemotherapy. If you do just know YOU ARE ON DRUGS and don't be surprised if you make some crazy decisions. You must be wondering how I happened to have those red foil pants in my closet… LOL!