Today I'm joining my friend Cindy Hattersley for our monthly Ageless Style series where we each interview a different woman we think you'd enjoy meeting.
If you like makeup and hair tutorials on YouTube then I imagine you've watched some of Nikol Johnson-Sanchez's videos. Nikol celebrates and focuses exclusively on women in their 50s, 60s, 70s, 80s, 90s, and beyond. Beyond, you ask? Yes. She did a simple, pretty makeup on Henrietta, a vibrant 101-year-old woman. With over 600,000 YouTube followers, 3.3 million likes on TikTok, and over 270,000 Instagram followers, I'm guessing you've seen Nikol.
"Let's get this beauty started."
Nikol Johnson-Sanchez is a licensed esthetician and a makeup artist who began her career in her teens as a Ford model. In addition to the tutorials on her YouTube channel, Nikol is a successful entrepreneur with her own beautiful product line, Nikol Beauty, for mature women. I've bought several of her products and they're among my favorites.
She's a woman who's comfortable in her own skin and she owns it. Nowhere is this more evident than her short YouTube videos where we can see her get dressed, style her vintage clothing collection, and put the finishing touches on her lipstick and her fabulous hair which turned grey in her 30s.
In our often too-casual culture, Nikol is inspirational and aspirational, that we should strive to look our best, not like we just got out of bed and threw ourselves together. And while we may not collect vintage clothes (They're not as expensive as you might think. She bought a pair of vintage Chanel pants for $197) we can copy her style, regardless of our budget.
BRENDA: With everything you do, you embrace aging and taking care of ourselves as a way to boost confidence and self-esteem. What do you say to women who've stopped wearing makeup and maybe aren't feeling as good about themselves as they once did?
NIKOL: I address this on my YouTube channel because I feel some women over 50 have gotten lost along the way. They're taking care of other people and they come last and don't think it's that important. I personally think it's very important because it's how you vibrate through your day, how you feel if you've shown up for yourself first.
You don't have to do a full makeup routine. You can do lipstick or mascara, or whatever your favorite product is. You don't have to feel that to wear makeup, you have to do everything. I think it's very attainable for women that maybe have lost touch with putting themselves together. Maybe they start with one product and really feel good, and they add another product and before you know it, they're creating their own look that is unique to them in their 50s and beyond.
BRENDA: I love the makeup tutorials you do on women over 70. What do you think are the biggest mistakes mature women make when it comes to their makeup?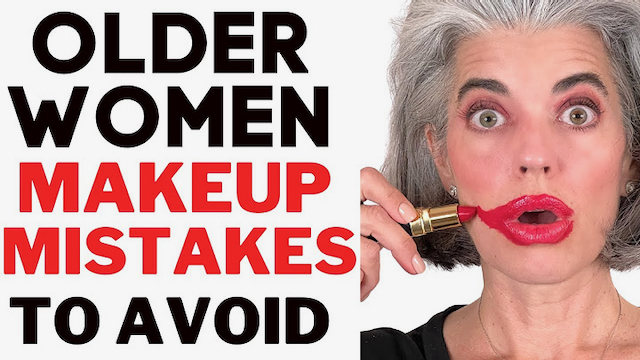 NIKOL: Just defaulting to what they've always done and not assessing where they are now. I like to push them outside the box because sometimes it doesn't work for us as we move out of each decade. Maybe we need to switch up our foundation, soften the color or change some things to keep up with the evolution of what our face is doing, and what our style is doing. The biggest mistake is staying the same and not evolving, not experiencing, and taking risks. I think a lot of women over 50 do that. They're afraid of change. They don't like change, but that's the beauty of growing with your style, your makeup, or your skincare. You're growing with it, and it nicely evolves with you.
BRENDA: All of our lives, women of a certain age have heard the term "age appropriate" as in "don't use shimmery eye shadow colors," but you often say there are no beauty rules.
NIKOL: You can create your own rules. Maybe what works for me doesn't work for you, so there shouldn't be a standard stamp for women who are more mature. It should be up to each individual to experiment. To have fun. It's meant to be enjoyable, and you're supposed to feel really good about yourself. I know that when women find the right products, the right look, and the right colors, it's life-changing. They feel very confident, and that's the idea. That's what we're trying to do. To build that confidence.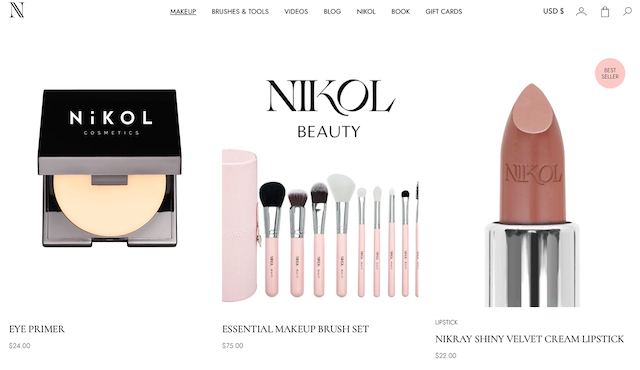 BRENDA: Why do you advise women over 50 not to wear all matte makeup?
NIKOL: I've found that having a little sheen on the eye gives that freshness, and I love having a gloss on the lip. If the skin is dry and dull or it doesn't have that luminous look we want, giving that freshness makes a difference, so that's why I say don't matte everything out.
BRENDA: My skin's been going through some age-related changes and some of the products I'd been using no longer worked. I've bought a number of your products and love them. Your Nikita Banana pressed powder is so sheer and gorgeous. It subtly sets my under eye concealer and tones down the shine on my nose without screaming "Powder!"
NIKOL: Thank you. We also have our new eyeliners and lip liners I developed. They're a soft formulation, specifically for mature women because I didn't want them to have hard pencils dragging across a mature eye. I wanted them to have high pigment and not have a pencil they had to work hard on. You don't have to sharpen them to a point because it's more of a rounded point. Everything's softer.
BRENDA: Let's talk about your vintage clothes. I can't get enough of your short YouTube videos where you feature them. When did your love for vintage start, and do you remember the first piece you bought?
Wait for it… Wait for it… Watch until the end. I love this video! Nikol's wearing vintage Carolina Herrera, but we could all do this with a long simple skirt and a white blouse.
NIKOL: I have always been into the hunt for the perfect price point and what have you, not vintage per se, but I remember exactly. It was 2015, and one of my clients said she'd bought a beautiful, vintage, red leather jacket…at a furniture consignment store. That weekend I went there, and he had all this furniture and jewelry, and in the back, he had racks and racks of clothes…And he had this little loft that had the designer stuff: Oscar, Carolina Herrera, Pucci from the 80s. He would buy estate sales. These ladies, they were Palm Beach, Miami Beach ladies. I was really fascinated by that little loft.
I saw this completely beaded skirt suit from Oscar de la Renta, an exclusive for Saks. Super, super, heavy, a gorgeous cream and white and silver skirt suit. I left it, and I was literally thinking about it in bed and thought, "If it's there this weekend, then it was meant to be." So I went back. It was still there, and it fit. It was $300 and I thought it was a lot so I asked if there was any room on it, and she said, "It's Oscar de la Renta! It's $300." Like, what's the problem? I felt like such a jerk, so I bought it. I have that piece in my closet. I haven't worn it anywhere, but it doesn't matter. It's so beautiful. Hand-beaded. Made in the USA. So that was my first piece. Then I studied the runways from the 90s to the 2000s and I look for the pieces I want, and I find them. It's kind of like a sport.
BRENDA: I'm hanging on your every word because I'm envisioning these Palm Beach, Miami Beach ladies have the most fabulous clothes. Where do you wear these glam pieces?
NIKOL: That's why I started TikTok. I talk so much on YouTube about beauty. There's got to be someone out there that appreciates vintage, so my TikTok is about getting dressed and what I have in my closet. Whether I wear it or not, I'm at least showcasing it. Recently, I bought this Oscar de la Renta beaded dress that was that cream, same kind of feel, from 2008. I was invited to Peter Thomas Roth's (skincare mogul) mother's hundredth birthday party in Miami Beach. The invitation had gold and silver, so I thought this dress will be perfect. I wore it to the event, and I took a picture with her and we matched. The same kind of cream…It was so beautiful, and I was so happy I had it. It's different when you wear your vintage to a special event instead of going out and buying something for the event.
BRENDA: So the short YouTube videos of you putting on these fabulous dresses are the ones you do on TikTok?
NIKOL: Yes.
BRENDA: I want to tell you, you are the sexiest thing on YouTube. I look at you and the way you vamp. It's just so natural and you flow and radiate confidence and happiness as you're getting dressed, and I'm so inspired. I love those!
NIKOL: Thank you! I have a good time with them. You can't take yourself so seriously. I get all the comments, especially on YouTube. I laugh at some of them like, "Grandma, please." It's just so funny to me…You're doing a little performance and not everybody's going to like it, but I have such a great time putting it all together. Sometimes when I think about what I'm doing I just laugh out loud. What am I doing?
BRENDA: You're inspiring women to look their best. That's what you're doing! It's not just your makeup and hair or what you're wearing. It's your attitude, and that's so important. We need to see other women who are enjoying what they're doing and are confident, so I love that about you.
NIKOL: Oh, thank you.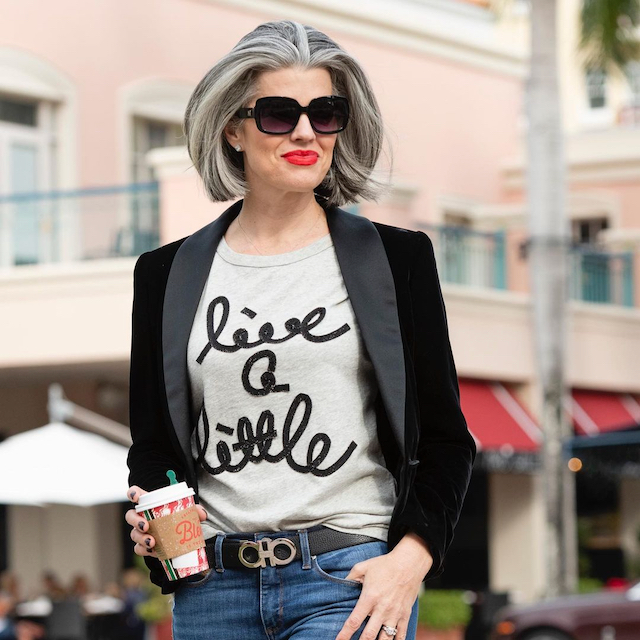 Vintage black velvet/satin lapel jacket to dress up jeans and a cool t-shirt
BRENDA: When you're not wearing a vintage piece or doing a video, how do you like to dress?
NIKOL: It's always tailored what I'm wearing. If I'm going to be home, I'll throw on a pair of jeans and I always have a button-down oxford on. If I happen to leave, I'll put a jacket over it, so it's really the blazer, a button-down, and jeans. I try to always do something different each day. When I'm filming, I'm always changing, so I'll be in a robe because it's much easier to change. My husband will joke around when he comes home and will say, "Were you in a robe all day?"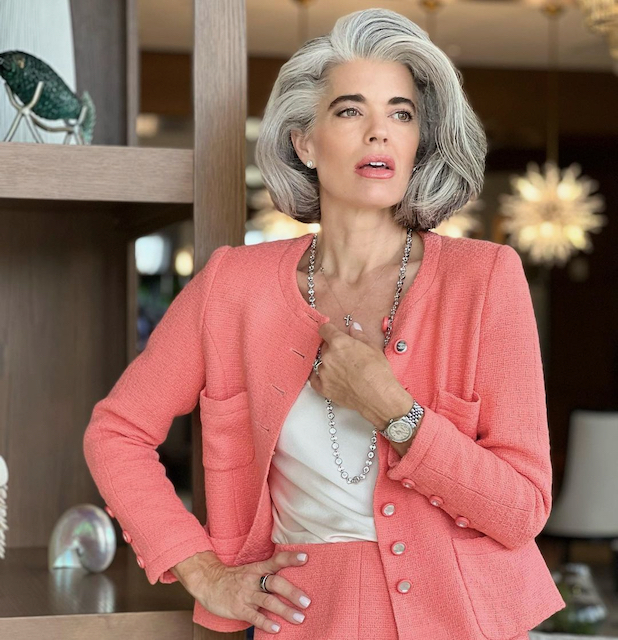 BRENDA: There's a photo of you on your Facebook page wearing a 1995, pink Chanel suit and you made the comment it was "the mirrored buttons" that pushed you over the top to buy it.
NIKOL: Yes. That was my first Chanel suit that I bought, two years ago in the fall. I'd been staring at it for a while on TheRealReal. I loved the color and I finally said I'm going to do it. It's so gorgeous.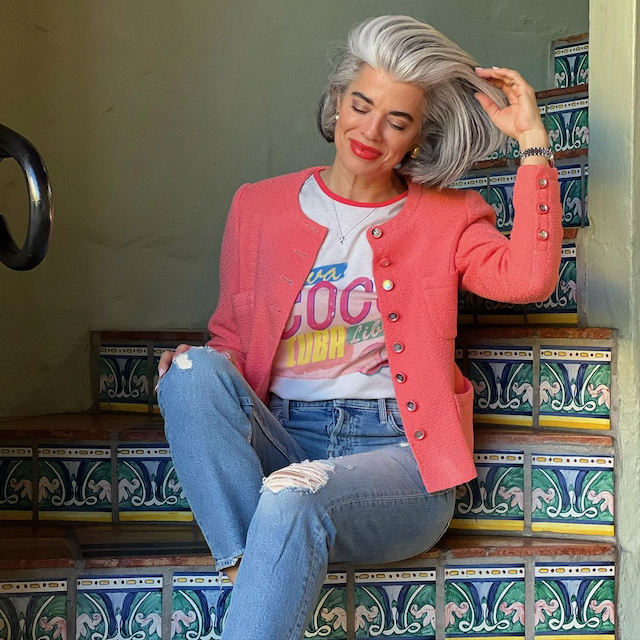 Same pink Chanel suit jacket paired with jeans and a fun t-shirt.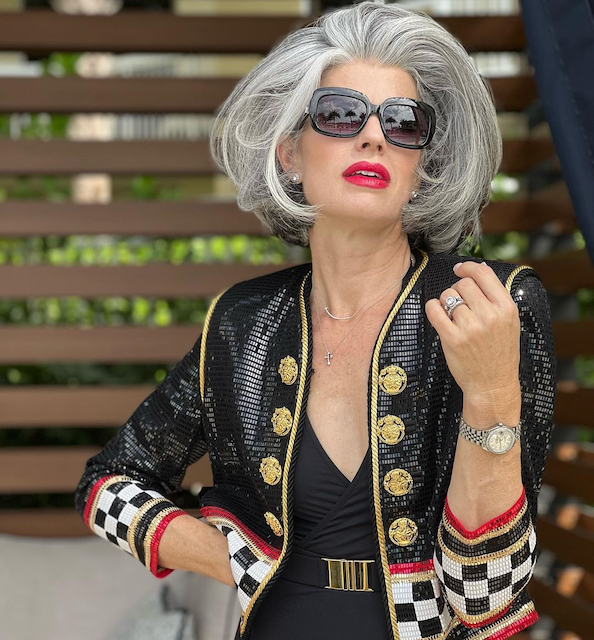 BRENDA: You've got another jacket I love. A St. John knit that looks like square sequins and the sleeves are black and white checks, trimmed in red with these fabulous round, gold buttons.
NIKOL: Over the bathing suit? That's my flashy jacket. It was for the holidays. Love that jacket. It's classic St. John.
BRENDA: They're all such great pieces. I think the people who know me would say I'm usually overdressed for everything.
NIKOL: No. There's no such thing.
BRENDA: Oh, good! I agree. Thank you, Nikol. I admire you tremendously as an entrepreneur. I've been down that road a lot, and you're building such a phenomenal brand, so you go, girl. I have really appreciated your time.
NIKOL: I was very excited and honored that you would want to feature me.
Be sure to hop on over and see who my friend Cindy Hattersley is featuring today!