I was never good at making costumes. On Halloween my sons used to look at me and wonder why I couldn't be like the other moms and create amazing costumes. What can I say? It isn't one of my strengths. Sooooo, I have the Presidential Inaugural Ball coming up this weekend, and it isn't a traditional Black Tie event.
This one STRONGLY suggests a Great Gatsby theme! Flapper dresses! AAHHHH!!!
I have been racing my brain for weeks now, coming up with a "flapper look." I started with the dress. One of my fears was that I would find an old dress in a consignment store, and it would fall apart… right there on the dance floor. So I went the safe route and found one online, that's current, but has tons of fringe along the bottom, and got it approved by my friends. Since the fringe at the bottom is the only thing that ties it to a Gatsby theme, I had to dress it up.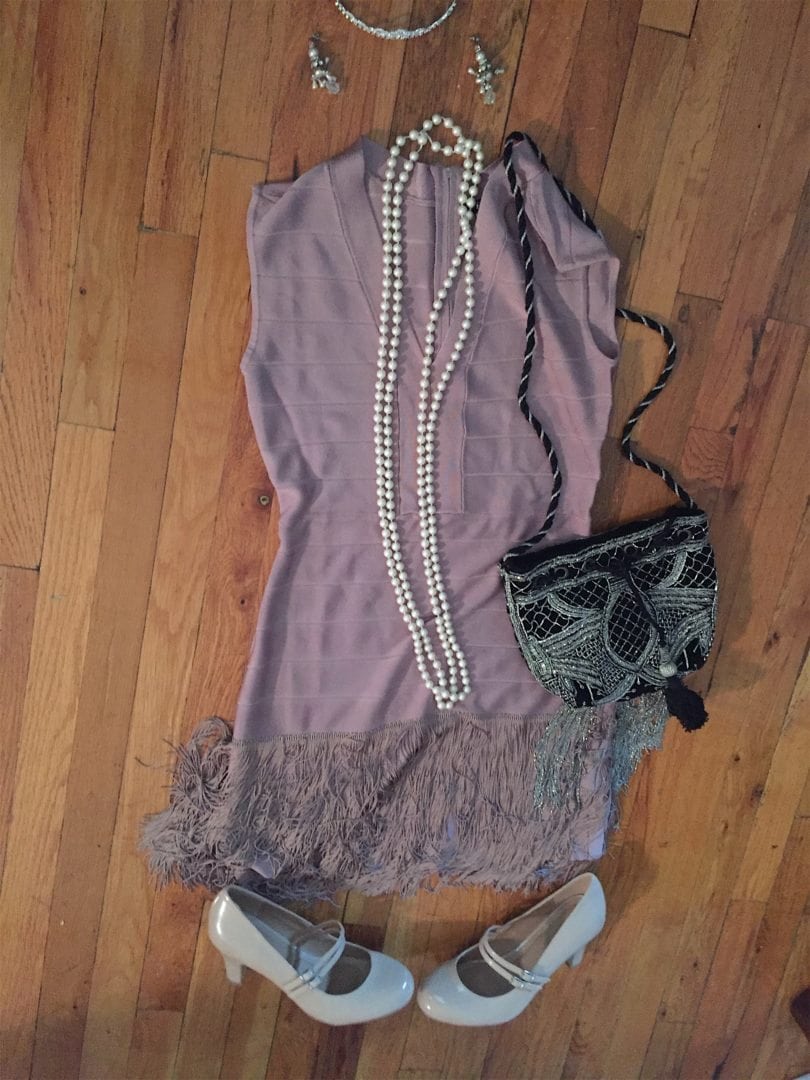 I called a designer friend of mine, and we went down to the bead district. Who knew NYC had such an area? We were looking for a headband and a necklace. After going into six stores, in a two-block radius, we settled on a small tiara and a long set of fake pearls. The pearls reach to my belly button. Next we went to Zara and while looking for current treasures–there was a 70% off sale–I found a beaded purse that looked "Gatsby-ish." It was perfect! I'm banking that while people will take the suggestion of the Great Gatsby look, they can't go too overboard, right?
So I felt good with my finds and started to relax. That was 10 days ago… I should have gotten to the shoes right away. My thinking was the ball would be so crowded that the top part of my costume would be seen more than my shoes. I looked in store after store but didn't find anything, so I turned to the web. I found some at DSW, of all places, with a round toe and a strap on the top of the foot, and ordered them. They are still not here!!! Since I leave on the train tomorrow for DC, I'm having to go to plan B.
I went through my closet, looking for shoes that are even close to what I need. Because of security, a limo won't whisk me right to the front door, so I need a shoe I can walk in for some distance. I don't want to buy a pair of ugly shoes I'll never wear again, plus there isn't much space in my NYC closet for them anyway. Voila! I have a cute tan pump with a peak toe and rounded front that will work.
Today I'm getting a manicure and pedicure and will decide on hair and makeup. I'm going for a nude-colored nail polish and researching the lipstick color. I'm packing a curling iron and lots of hair spray and bobby pins to get my hair out of the way for the tiara. No one had long, blond flowing hair back then, so it is going.
Wish me luck on my "costume." I think I will enjoy the event and hope I fit in while not looking too strange.