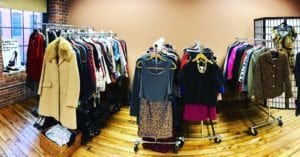 For years it has been my dream to start a boutique for struggling women, using clothes as a tool for boosting self-esteem and self-worth. A few months ago, my dream came true. Uncommon Threads was born.
It all happened gradually, then quickly. For years, I've collected clothing donations to give to my social work clients who are low-income, single moms. It started with a few racks, then the clothes literally took over my office. Before I knew it, the word had spread and  social service agencies started contacting me when their clients were in need of clothes. It became clear I needed to start a nonprofit.
With the help of my amazing community and fiscal partner (Family Services of the Merrimack Valley), last month I launched Uncommon Threads. In just a few short weeks, we moved into a beautiful space–in an old Lawrence, MA mill building–built a team of incredible volunteers and gathered a collection of gorgeous clothes, shoes and accessories. It seemed that once I made a conscious decision to start this program, everything fell into place. My head is spinning, but in a very good way! Isn't this what's supposed to happen when you follow your passion?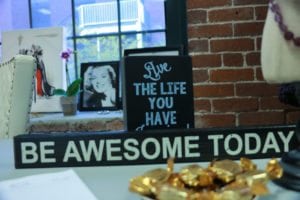 Uncommon Threads is not your average clothing program. Here's how it works.
Clients are social worker referred by our partner agencies that work with domestic violence survivors and/or women in need who can benefit from our services. They receive a private wardrobe session at the boutique with  a volunteer "stylist"–mainly me for a while–where they'll learn about their best styles and colors, the messages clothes send (both internally and externally), and they'll receive a few complete outfits they feel beautiful in. We carry everything from jeans to workwear–even special occasion dresses. We ask for a $10 donation, but if someone doesn't have the means to pay, the fee is waived.
Our goal is for every woman to walk out of Uncommon Threads with a new look, a boost of self-confidence and feeling pampered and cared for.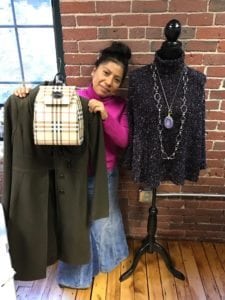 Our inventory comes from the most generous people including community members and clothing companies. I even reached out to my amazing "sister bloggers" for donations and received boxes of fabulous pieces right from their closets!  Women helping women…that's what we love to do.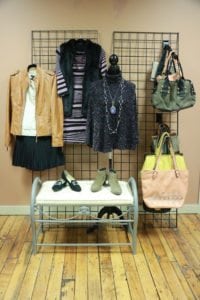 I have great plans for this program. My vision is that it morphs into a "women's empowerment center" with the addition of self-esteem workshops, make-up, hair styling, mentoring and coaching. But for now, my focus is on raising enough money to fund Uncommon Threads. We are seeking donations (giving page here) and business sponsors who would like to support the program. We also accept women's clothing, shoes, bags, and jewelry in new or nearly new condition and always in style! All donations are tax deductible.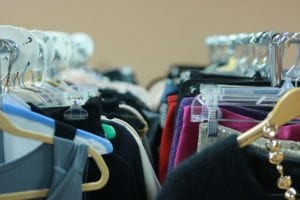 Hope you'll follow our journey. You can find Uncommon Threads on Facebook and at our website. Kindness makes the world go round!
XO Susan