The calendar may say it's spring, but in many parts of the country the reality is cool weather, even snow. For the last few years I've kept my eye out for a duster, the perfect solution for chilly mornings. Dusters generally bring to mind images of cowboys and gunslingers or Kurt Russell and Sam Elliott, walking the streets of Tombstone, Arizona, in long black coats.
Dusters are stylish alternatives to coats and blazers.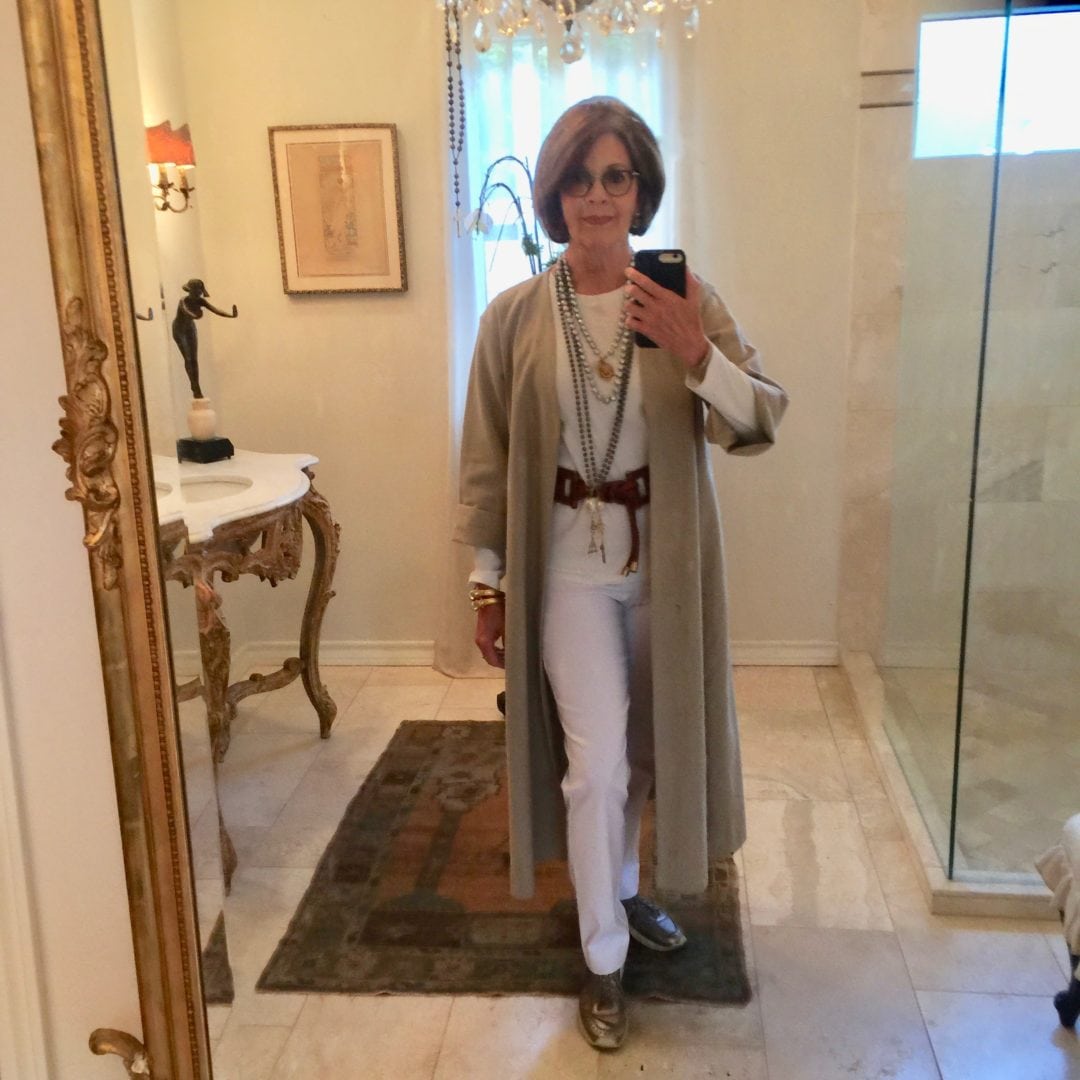 I snapped this photo before I left for New Orleans a couple of weeks ago. Excuse my antique mirror because it doesn't always give the best resolution. I bought my duster from a boutique in Houston and have styled it over a column of white: easy fitting, white cotton pants and a long sleeve, white tee. In addition I've added an old leather belt in the same color family as the duster–brown/wheat–so if you adhere to the "two colors rich, three colors poor" theory, they read as "the same color." FYI, by wearing a "column of one color," I've created a slimming effect that even the belt doesn't break.
Worn knee to ankle length, dusters are slimming and cover a multitude of sins. Turn the sleeves back and/or push them up toward your elbow, then turn the cuffs of a long sleeve blouse back over them and layer lots of Julie Vos bracelets and multiple necklaces. You can see I'm wearing my silver sneakers, but I also packed my gold sandals. Whether it was the airport, the hotel or meeting designer, Tara Shaw–who said she'd worn a similar outfit the day before–women loved this look.
Here are some fresh, spring colored dusters in both regular and curvy sizes. Dress them up or down, but the most important thing is to have fun with what you're wearing!