This recipe works great as a main meal, plus it uses one of my favorite fruits: mango! You have the sweetness from the mango, a bit of spicy from both the red and black pepper and the creaminess from the avocado. If you decide to serve this as a first course, try it in a martini glass for a touch of elegance!
I think shrimp is more flavorful if roasted in the oven rather than boiled in water. Just toss the shrimp with a few tablespoons of olive oil and 1/2 teaspoon each of salt and pepper. Lay them in a single layer on a sheet pan and roast for 8-10 minutes at 400° or until they're just pink, firm and cooked through. Set aside to cool, then add to your salad. I found the original recipe in Cooking Light Magazine. Enjoy!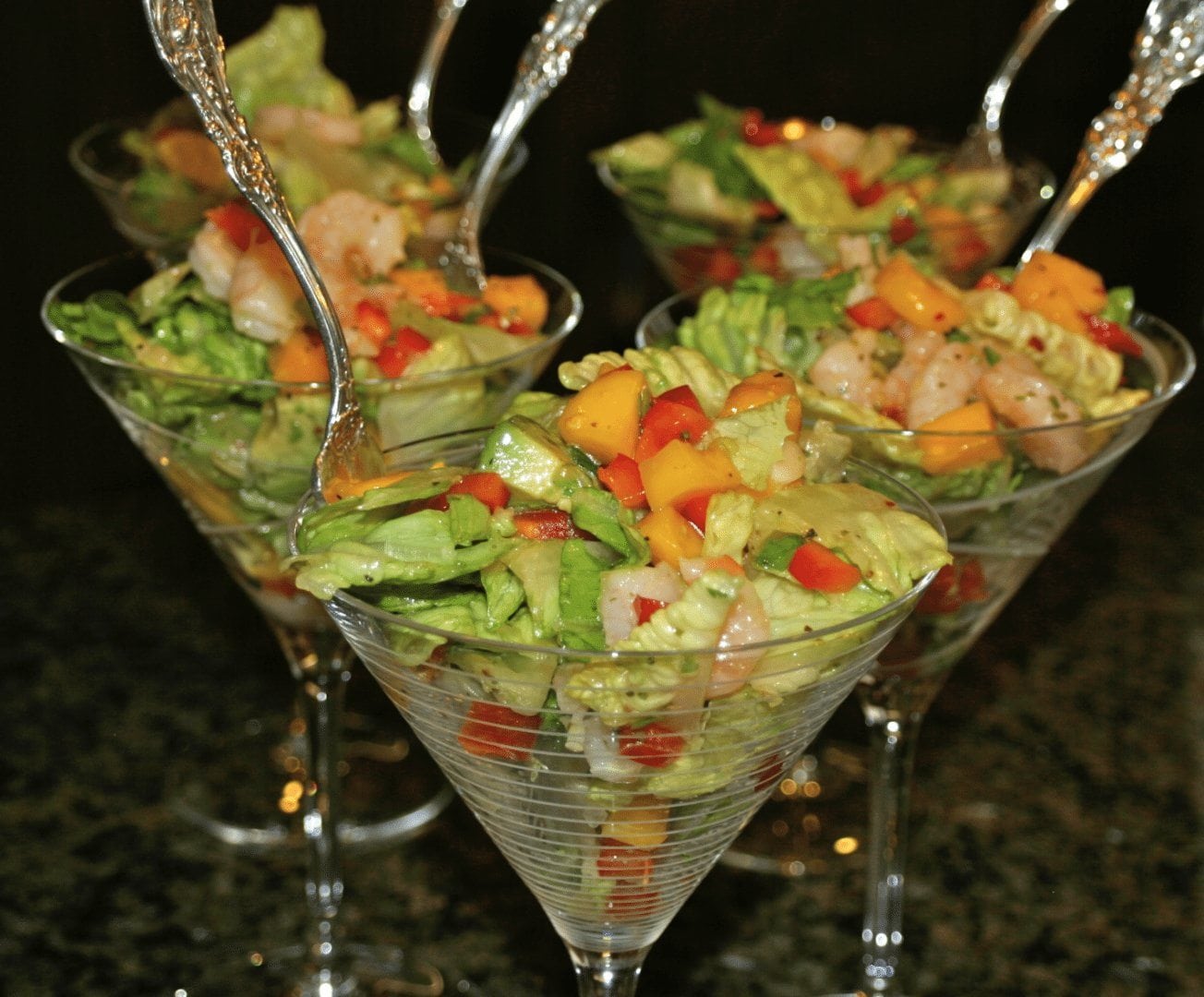 Sweet 'N' Spicy Shrimp & Avocado Salad with Mango Vinaigrette
• Mango Vinaigrette
• 6 cups shredded romaine lettuce
• 1 cup chopped red bell pepper
• 6 Tbls thinly sliced green onions
• 1 pound peeled, cooked shrimp
• 1 avocado, peeled and diced
Place Mango Vinaigrette in a large bowl. Add lettuce, bell pepper and green onions. Toss well. Add shrimp and avocado. Toss gently.
Mango Vinaigrette
• 1/4 cup fresh lime juice
• 2 Tbls chopped, fresh cilantro
• 1 Tbls olive oil
• 1/2 to 2 tsp crushed red pepper or to taste
• 1/2 tsp sugar
• 1/4 tsp salt
• 1/4 tsp freshly ground black pepper
• 1 garlic clove minced
• 3/4 cup diced, peeled mango (about 1 medium)
Combine first 8 ingredients, stirring with a whisk. Stir in mango.