This morning a television at the gym flashed a picture of Michael Irvin, former wide receiver for the Dallas Cowboys, wearing his number 88 uniform. It reminded me of when I was a young photographer for the San Antonio Light and covered the Cowboy home games from the sidelines. I had a mad, mad, insanely mad, schoolgirl crush on another number 88, Cowboy wide receiver, Drew Pearson.
Is it considered cheating to have a serious crush on someone other than your husband?
Drew Pearson was a bonafide sport's hero. Tall and thin, with the grace and legs of a dancer and the moves of a gazelle, I thought he was one of the most beautiful men I'd ever seen. He could stop on a dime, change direction in a heartbeat, and it seemed as though there was hardly a pass he couldn't catch.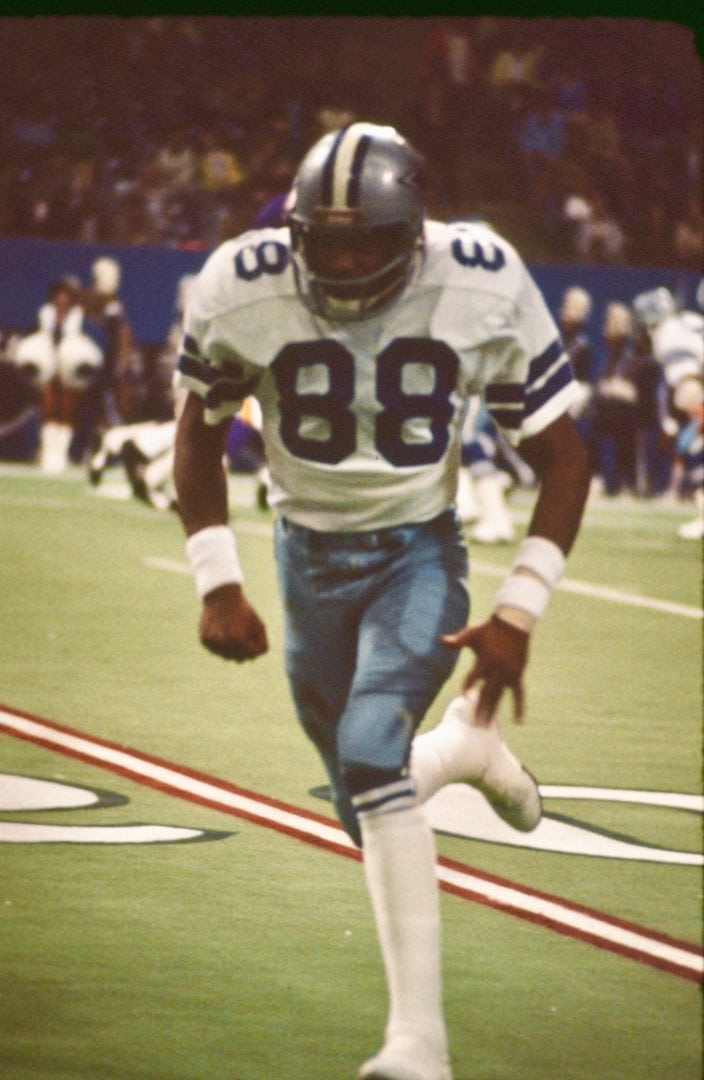 (The originals of both photos are slides and in perfect focus. They lost something in the scanning process.)
At my first home game, from the moment the players came onto the field to warm up, I zeroed in on Drew. He caught a warmup pass a few yards in front of me, stopped and gave me a smile. A few minutes later he caught another pass, out of bounds and, with ball in hand, walked toward me.
"Hi," he said. "I haven't seen you here before." I told him it was my first time, covering the Cowboys. He smiled and asked where I was from and then said, "Enjoy the game!" and ran back onto the field. All I could think about while he was talking was my husband–in the stands–with his binoculars. As hard as I'd tried to keep my crush secret, he would've had to be deaf, blind and stupid not to know his wife was seriously gone on this guy, but he never said a word.
At the time there wasn't a pro football team more high-profile than the Dallas Cowboys. The press referred to them as "America's Team," and liked to say the stadium's retractable roof was so "God can watch His favorite team play." If that wasn't a lot for a husband to think about, Pearson was already considered one of the NFL's greatest wide receivers and had made one of the most famous football plays in history.
Trailing 14-10, with only seconds left in a do or die, NFC Divisional Championship game against Minnesota, Cowboy quarterback, Roger Staubach, threw the now famous "Hail Mary Pass" to "Mr. Clutch," Drew Pearson. Like pulling the impossible rabbit out of a hat, Drew made a miracluous catch in a play that earned the Cowboys a place in the Divisional Playoffs. When I hear the term, "Hail Mary," I think about it differently.
Hail Mary! Drew Pearson made a pass at me!
After the game Drew came out of the players's dressing room and found me. We talked for a while, and he asked for my phone number. When I told him I was married and my husband was waiting for me at the other end of the tunnel, he said, "Then I guess you'll have to call me."
While I never called, I was over the moon he was interested. On the other hand, he probably asked lots of women for their phone numbers. Regardless, my crush wasn't worth jeopardizing my marriage. Did I tell my husband all of the details of our conversation? No, but when I emerged from the tunnel, carrying number 88's game jersey, he probably got the picture.