I was borrowing a cup of sugar from my neighbor down the street and noticed that in her dining room, she had artfully stacked books on the table and chairs. The volumes belonged to her parents, both of whom who had passed away. As my friend was sorting through the estate, the books found a home on the table, and the effect was utterly charming. I had to take photos.
Incidentally, this is why I borrow cups of sugar. And why some friends don't always answer my ring. Who can blame them? I'm Gladys Kravitz with a DSLR and a tripod.
Anyway among the collection of books was the most lovely little travel diary I have ever seen. In 1932, my friend's mother, Marion, voyaged to Europe aboard the Aquitania and recorded her impressions inside a leather-clad book.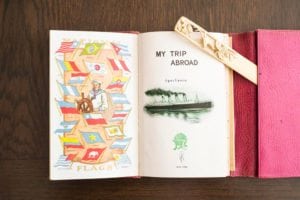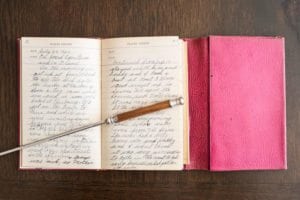 And now let us take a moment to wring our hands over what we have lost. Many things, I can think of. How about you? Look carefully at the photos above and let's list them.
First is the lost art of travel journals. Not that it's completely gone, but what was once commonplace is now rare, and we know why. Facebook is our travel journal. Twitter is our postcard. Instagram is our Kodak carousel.
Second is the practice of writing with a fountain pen. Young Marion would have to wait another eleven years before the invention of the ballpoint pen in 1943. Let's be honest. Maybe we shouldn't mourn the ole fountain pen, as I can only imagine the suffering of those without the fine motor skills necessary to put ink to paper without explosive blots ruining shirt, desktop, your lunch.
Third I am sorry about the loss of 1930's language. That era's vernacular had a sort of innocent, fun, breezy jocularity to it. Here's an excerpt from a 1932 postcard:
Dear Marjorie,

You ole Punkin-Eater. You're a keen friend to have and you may lay to that.

Just one of the gang, Dorothy
Fourth and most glaring is the change in modes of travel. Marion and her family crossed the Atlantic aboard the Aquitania, one of the most luxurious ocean liners in the Cunard line, behind the Lusitania and the Mauritania. It was a voyage of refinement in a ship with ballrooms, theaters, gymnasiums, and swimming pools. God knows you couldn't get hauled out of your deckchair and tossed overboard because the staterooms were oversold.
Maybe one day our ancestors will look at our keyboards, our fixation on the word, 'like' or our disgusting airplanes and see romance. Just as a ship plows smoothly through the dark ocean waters, time carries us along its currents from one age to another and nothing changes at once.
Photos by Renn Kuhnen.