Remember the old I Love Lucy episodes where she tries to sell Vitameatavegamin on television, or the one where she wraps chocolates on an out of control assembly line? It seemed like everything Lucy tried was fraught with problems from the get-go. Yes, she was a bit of a dingbat, but her biggest problem was she never thought about doing things that were suited to her abilities or her needs. I'm involved with something that could have helped Lucy.
I'm part of an impressive group of women over 50 who are breaking the stereotype of what it means to grow older and create the next phase of our lives.
At more than any other time in history, women over 50 are at a career crossroads. Last weekend one of my best girlfriends was wondering what she'll do when she retires, and she's not alone. Like my friend, there are millions of women who are retiring or want to change jobs within their industry. Many women would like to launch a business or a side gig, but don't know what next steps to take. And of course there's Covid, which has done away with hundreds of thousands, maybe millions of jobs, or at the very least, made them more difficult.
Women over 50 are also leaving their jobs in droves in search of work that feels more meaningful. They want a job that makes an impact while allowing them time for the things they love. The hard part is discovering that job, then wondering what next steps to take to make it a reality. We're also afraid of being discriminated against because we're over 50, 60, even 70 and 80.
Most of us hear the clock ticking, but we don't know what to do about it.
This is not my usual kind of blog—LOL! I'm not sure I have a "usual" blog—but you know me well enough that I wouldn't lend my name or be part of something if I didn't think it had real value and the potential to be a game changer.
To help women change their career by the end of the year.
If you recognize yourself in any of the women I've described, you might consider registering for a LIVE, FREE talk this coming Wednesday, September 29th at 1pm EST, or Thursday, September 30th at 7pm EST. I'll be there, listening, because it will give us 3 specific strategies we can start working on immediately to get clarity, lift off and traction in a new direction.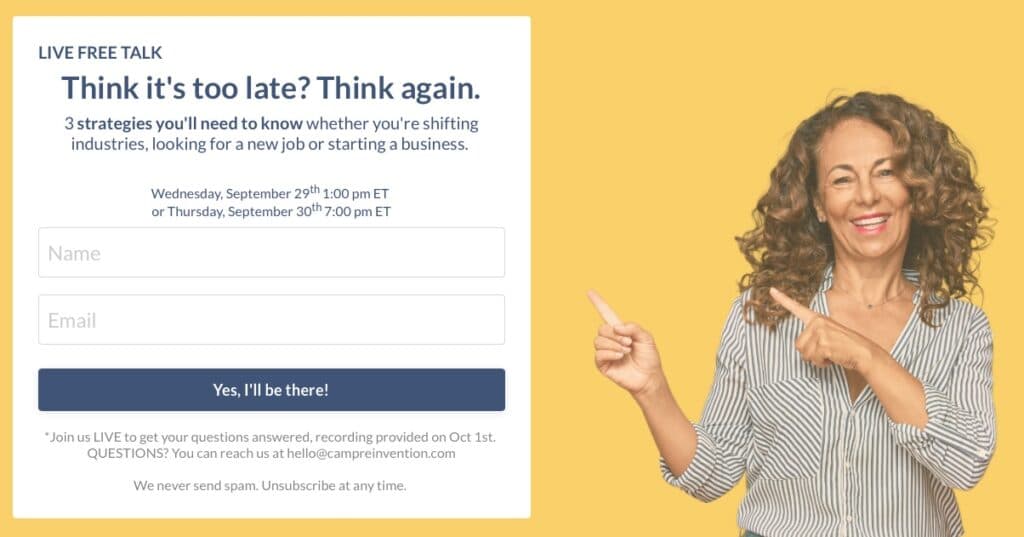 This program is part of something called Camp Reinvention, and it's aligned with one of my core beliefs: Make Life Count. I put these words under the 1010ParkPlace logo. It's also the hashtag I use on all of my Instagram posts, #MakeLifeCount along with #WhatAreYouWaitingFor? I use these phrases because they're engrained in who I am. They're part of my DNA.
I've had a number of careers, and I've survived the unimaginable, and each time I get up and charge at life again, because the alternative scares me. If I've learned anything it's that it's never too late to do something new and different. When we step outside of our box, that's where the good stuff is.