If you like love stories, I have a powerful love story for the ages. A true story that speaks to the power of a mother's love and her twenty-five-year fight to save the life of her son. When I think about this woman and her son—she's been my friend for 15 years—I know without a doubt that miracles do happen.
From the moment he was born, Jonathan Carrington has been the miracle boy.
Imagine giving birth to a perfect, healthy baby boy, and four months later, an aneurysm ruptures in his brain and he's left severely challenged. That's what happened to Tammy Carrington's precious only child, Jonathan. Before she took her new baby home from the hospital, Jonathan was given a Hepatitis B vaccine without her consent or knowledge.
"Within four hours of getting the shot, Jonathan began screaming at the top of his lungs, Tammy said. "Blood-curdling screams, 18 to 20 hours a day, every day. He was inconsolable. I felt like the worst mom ever. I felt so inadequate."
Then Jonathan's bowels shut down. His pediatrician said it was colic. "Be patient and he'll outgrow it. In the meantime, you'll need to bring him in three times a week so we can stretch his little sphincter so he can poop." In other words, they had to dig the feces out of his tiny body.
At two months of age, Jonathan was given a second Hepatitis B along with a Diphtheria, Tetanus, and Pertussis vaccine. Later, when Tammy researched the vaccines her son had been given, she discovered they were part of a "hot lot" (devastating side effects) that had killed and injured lots of children. According to VAERS, a government database, Jonathan had received one of the top 10 "hottest lots" in U.S. history.
"His screaming got worse. His hair fell out in clumps, and he screamed until he blew a blood vessel in his brain. He was only four months old."
Jonathan died in the helicopter when they were life-flighting him and was resuscitated, then died twice more in the pediatric ICU and was resuscitated. His medical records state his brain had little or no oxygen for 30 to 45 five minutes during the three times he coded. He was placed on total life support with 21 IV drips going into him. When they began weaning him off of life support and the IVs, the aneurysm bled again.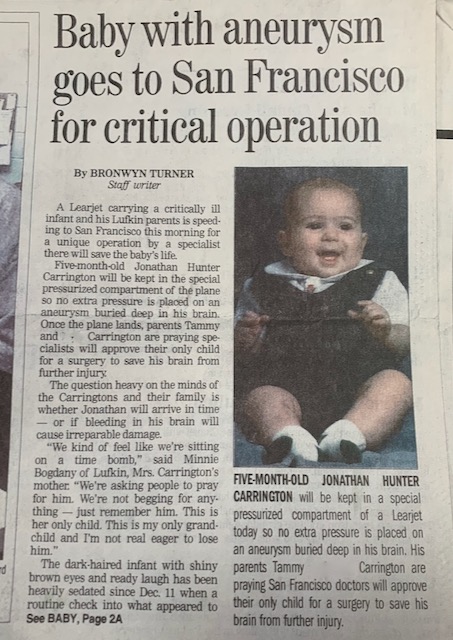 "He was given less than 24 hours to live. We called our pastor and spent the night praying over him, and he stabilized."
Tammy and her now ex-husband airlifted Jonathan from Texas to the leading expert in aneurysms in young children at the University of California at San Francisco Medical Center. They were to perform an eight-hour procedure with nine doctors. After two hours, the surgeon came out of the operating room and said, "We can't explain it, but the aneurysm is gone."
"We can," Tammy told him. All of East Texas has been praying for him." The newspapers and the local TV station, KTRE, had been following Jonathan and were updating the community. They named him "The Miracle Boy."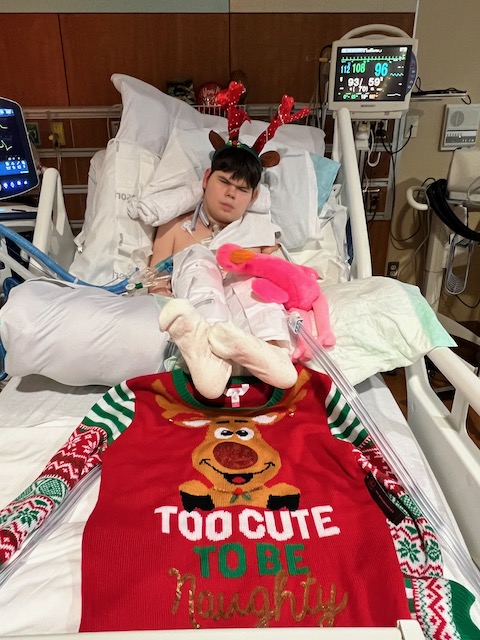 Jonathan is now 25 years old, a special needs child who is considered medically fragile. One month ago, on December 4th, Jonathan was hospitalized on a ventilator with Flu A, Strep, and aspirational pneumonia, and he was in kidney, heart, and respiratory failure. He literally had no pulse. They put him on four vasopressors just to give him a blood pressure. Doctors didn't expect him to live. One physician said Jonathan should be put on hospice, but Tammy didn't give up.
"He nearly crashed, and I stood against the wall and watched him almost die."
A week ago, in the middle of the night, Tammy saw Santa Claus in the hospital and asked if he would pay a visit to her special needs child in intensive care.
Santa asked Tammy if he could pray for him. "I'm not just Santa Claus," he told her. "I'm a preacher, too."
"I've got some anointing oil," Tammy told him, to which Santa said, "Even better."
Santa prayed, and the nurses came and prayed, and the next day everything started to turn around. All of Jonathan's organs that were failing had normalized. The four vasopressors needed to even give him a blood pressure were gradually removed.
The hospital chaplain told Tammy that one of Jonathan's doctors was agnostic, but "now he's been asking questions about God." To be in almost total organ failure and have everything normalize… He couldn't explain it.
It wasn't long before the same doctor came to Tammy and said, "I believe there's something greater than us, and last night I prayed for Jonathan. I asked if there was anything else I could do for him." That day, after 15 days on a ventilator, Jonathan breathed on his own for 19 hours.
The doctor and Tammy were sobbing and hugging, and they cried and hugged one another three more times.
For over a month, Tammy Carrington has been sleeping on a small cot next to Jonathan's hospital bed in his ICU room. During our recent conversations, she's paused numerous times to suction his mouth so he doesn't choke on his own saliva, or so she and the medical team could turn him. This has been their life for 25 years.
While Tammy has some trusted home healthcare nurses, she is not a wealthy woman. Most of Jonathan's care falls to her, and she does it gratefully and gladly. In all the time I've known her, I've never heard her complain or say, "Why me." Just the opposite.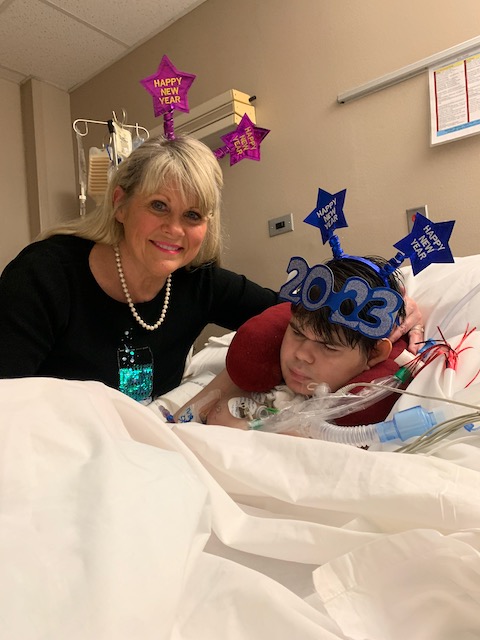 In 1997, when her perfect, four-month-old baby boy suffered an aneurysm, she promised God if He would save her son, she would tell his story to everyone who would listen. And she has. Tammy is the epitome of God's love, and Jonathan is the angel through which she expresses that love.
"Halloween is Jonathan's big time, and I go all out because it brings him unbridled joy and happiness. We visit the doctors and the Toyota dealership that takes care of our van, and when he hears the laughter and everyone saying his name, it makes him smile and laugh. I would do anything to bring him joy and quality of life."
Jonathan Carrington is still very sick. He's had a tracheostomy and is on a ventilator, and he still has an infection and a fever of unknown origin. Everything about this little boy, who can't walk or talk, steals the heart of everyone who meets him. Jonathan's story underscores the power of a mother's love, and he's shown us the power of prayer and the love God has for us.
If you find it in your heart, please pray for Jonathan Carrington, his medical team, and his mother, Tammy. And if you're part of a church or a prayer group, please add them to your prayer list.
I believe "this is a God thing," and God isn't done with Jonathan or Tammy.