Darlings, I'm so excited to meet you all here. I'm now a fashion blogger on 1010ParkPlace with my own monthly column! I do hope you'll stop by and say hello!
Well, my Fashionable Friends… It's that time of year again. We all want to catch every bit of delightful weather we possibly can, so let's get our picnic game on! Whether your basket is filled with a deelish assortment of delectables from Dean and Deluca, Whole Foods, or perhaps a basket full of Rosé, Chardonnay and Pinot Grigio… like mine, it's an outdoor celebration!
One must look effortless and fab when picnicking. I say, why not wear the gingham instead of just having it as your tablecloth?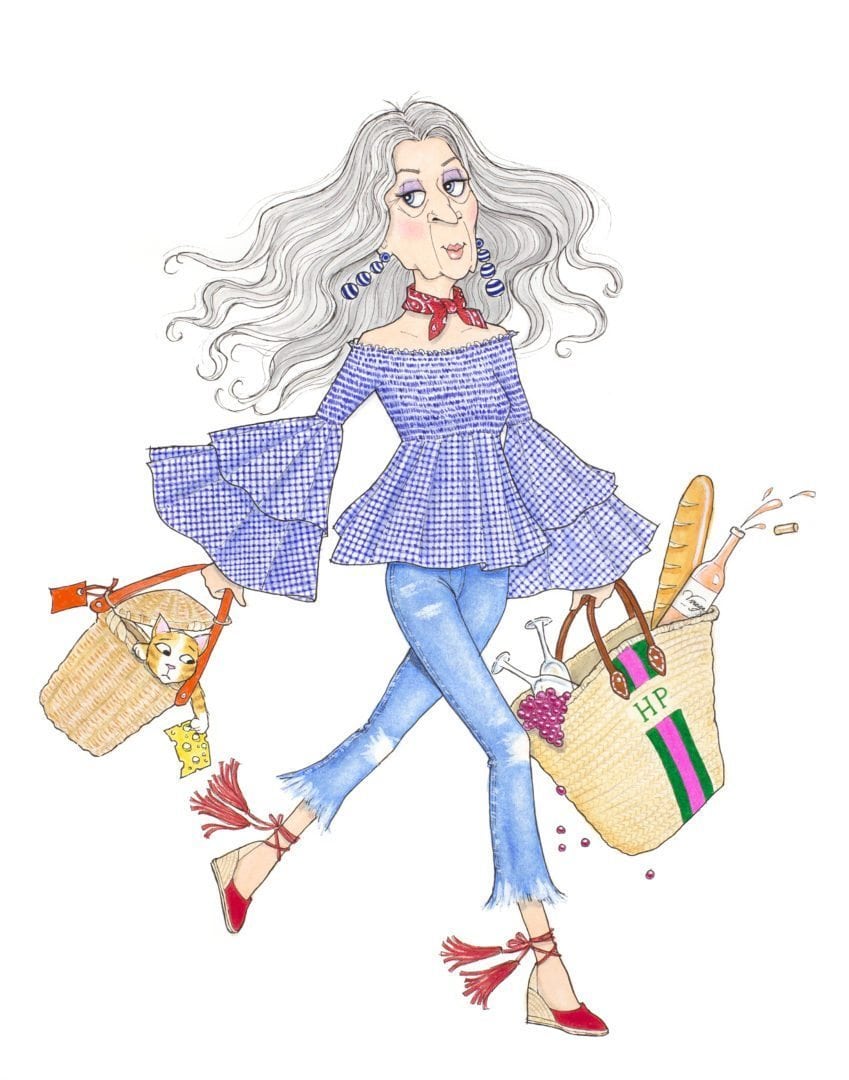 This year there are so many options with gingham. We are never too old for a fabulous flounce or ruffle. I chose a Caroline Constas top to show off my gorgeous shoulders. It's also available as a dress, which would look just as sensational over this pair of cropped jeans. Save the white jeans for another occasion, Darlings. Who wants unsightly grass stains? Practical, yet fashionable, always!

Take your picnic game to a whole other level with some head turning accessories! My Rebecca de Ravenel earrings fit the bill. They are large enough to make a statement, yet super light weight.

Rather than just your standard Converse All Stars—which I adore by the way—take it up a notch or two with some colorful espadrilles. Mine are suede with tassels from Castaner.

Versatile, fun and fab, my picnic basket and tote, both by Lindroth Design, double as a handbag and beach carryall. The striped monogram is available in many color combinations, too. As an added bonus, the tote has enough room to hold your egg salad sandwiches and lots of bottles of Rosé!

Well Darlings, I do hope I brought your picnic attire inspiration to new fashion heights. I'll see you next month for another fabulous fashion adventure!
Cheers Loves!
XOXO, Hildie