Everyone has a favorite classic rock song that pops up on the radio and transports you to your younger days. Mine is "Gimme Shelter" by The Rolling Stones. Those were heady times Darlings! What fun we had! Mick and those lips! Let's leave that one for another time, shall we?
When I see images of them now, I'm always struck by how fashionably cool our favorite rock stars of the day dressed. Just look at Jimi Hendrix in those sumptuous velvets, embroidery and satin. Those rock stars made a lasting impact on fashion, creating a beautiful mix of patterns and textures. The energy was sexy and cool.
This fall I want to wrap myself in velvets, brocades, paisleys and stripes! I want to channel my inner Rock Star!
I know what you're thinking, "But Hildie, I'm too old to go around looking like some rock groupie that never left the tour bus!"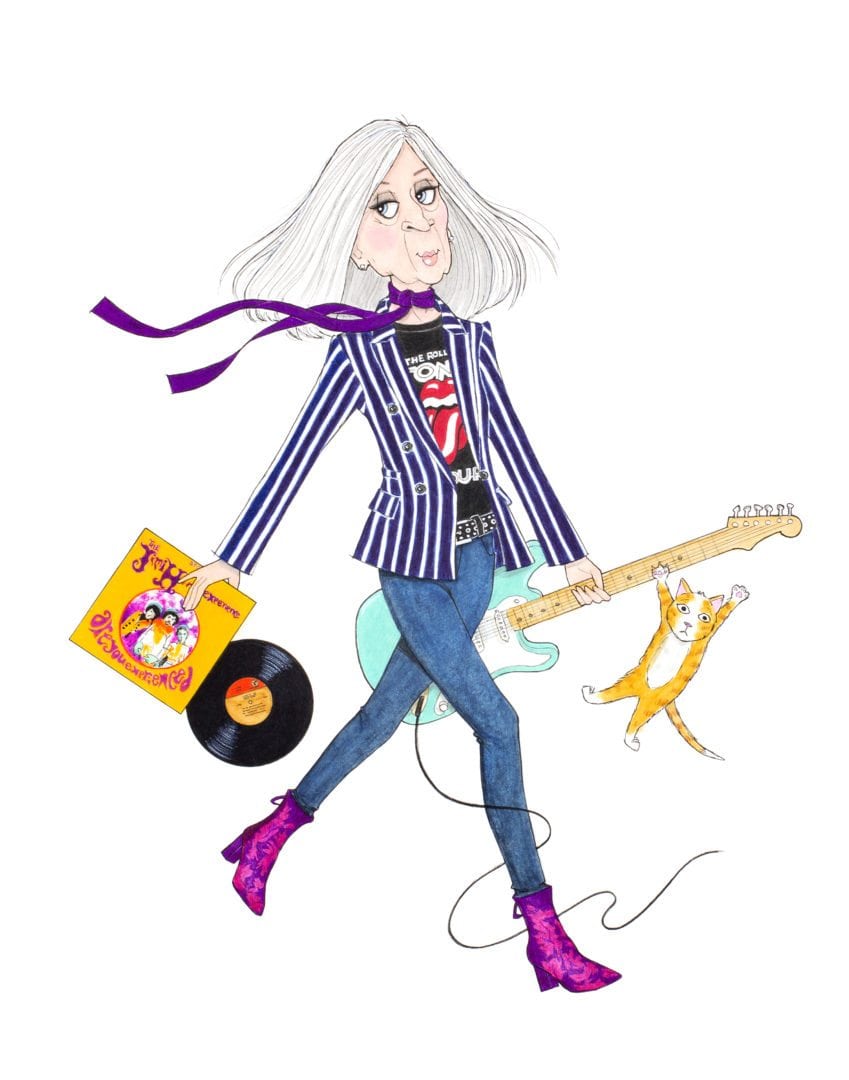 My dear fashionable friends, I'm talking about a look that's all grown-up. A look that is sleek and luxe. Think Tom Ford meets Marianne Faithfull. Leave the torn jeans and fringe at home for this one. We're not going to Coachella for goodness sakes!
Let's start the look with a graphic tee. Maybe you're lucky enough to have a concert tee from back in the day, and it still fits. If not there are a number of websites that carry vintage band logos and concert tees. Remember, worn with a jacket, it's only a hint of the design underneath. If you're not ready to take the rock tee plunge, try a silk or satin shirt in a jewel tone, unbuttoned a bit to show a lace camisole underneat.
When I first spied this sensational blazer I'm wearing, I was reminded of a photo of The Rolling Stones's late Brian Jones, wearing a striped pant suit. The vibe is very mod and a little rebel which I love. My double breasted blazer is from Banana Republic and adds the right amount of contrast with my concert tee. Choose a jacket with a trim silhouette, a higher arm hole and narrow cut sleeves. Nothing boxy here Darlings! Your mantra should be "What would Tom Ford do?"
My JBrand jeans in a dark rinse keep the look hip and sleek. There is a chicnesss to this look so stay away from a lighter wash or frayed jeans. After all, we want to portray rock royalty my dears! Take it up a notch and try a coated denim to give the look of leather but the comfort of a jean.
The boot of the season is richly textured in gorgeous satin and velvet, featuring jewel tone brocades. My Alexandre Birman Regina boots are perfect for that embellished rock and roll look. There are tons of options this fall. Even Target has a floral brocade boot!
There is a tendency to over accessorize this look so keep them to a minimum. Let your studded belt be your jewelry. Forget a necklace and wear a skinny scarf instead. Now you're getting the picture! Sleek hair and a smokey eye or a glossy berry lip will complete the look.
So my dear Rock Goddesses, turn up the volume and glam it up! You'll have every Coachella Girl wondering who that chic and elegant Rock Star is.
Cheers Loves,
XOXO, Hildie