Darlings, when I read cardigans were making a comeback, I thought, did they ever go out of style? Every fashion girl I know over the age of 50 must own a few, and if you're like me, you've kept your favorites for years.
Cardigans are a timeless classic that never goes out of style.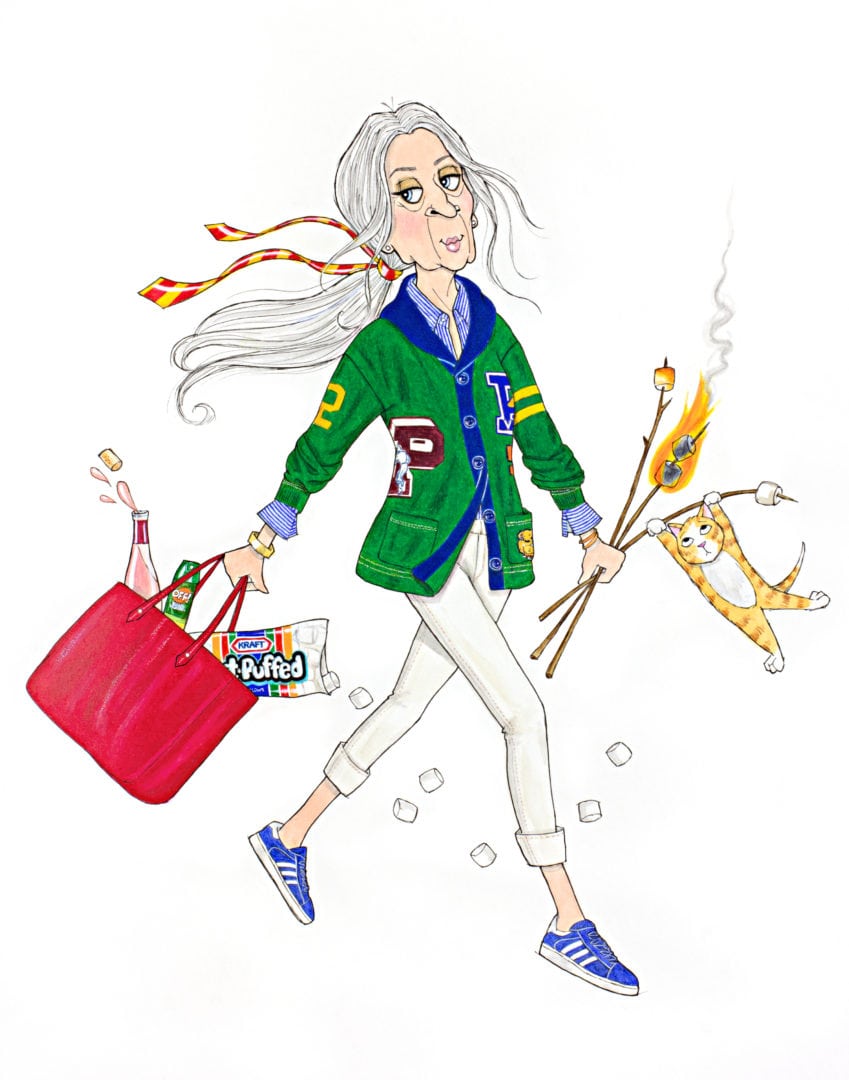 If the fashion powers that be declared the cardigan been out of fashion since the 90's–when it was part of the grunge look–then I've been misinformed. Goodness knows the last time I wore a cardigan… I was not channeling Kurt Cobain! So what is new about the cardigan, now? It's still the same classic cardigan we know and love.
What has changed is the multitude of ways you can wear it.
Looking at images of this "new trend that's making a huge comeback," I began to see my trusted cardigans with fresh eyes. The best way to wear a cardigan without looking frumpy? Try an oversized cardigan with skinny trousers, or I loved the way Alexa Chung wore hers buttoned up and tucked into leather pants. Another favorite was shown off one shoulder and tucked into a metallic pleated skirt with a wide belt. I also adored the midi length, Gucci cardigan shown unbuttoned with a pair of jeans, boots and a tee.
Feeling inspired, I decided to invest in a new cardigan. I knew I wanted one slightly oversized I could wear as a jacket or perhaps as a transitional piece that could work for late summer into fall.
Darlings I must let you in on a little fashion secret: Some of the best fashion finds can be found in the men's department! Where else could you find practical wardrobe pieces with that classic edge?
It was there I found this shawl collar, letterman cardigan by Ralph Lauren Polo. It's 100% cotton and perfect for those late summer days. Worn as a jacket, I can pair it with a striped button-down shirt for a little fun contrast.
This time last year you may remember I talked about my favorite transitional piece for fall: white jeans. White jeans are the ultimate seasonless wardrobe staple and can make any ensemble pop. My Ralph Lauren Classic Slimming Jeans will take me from summer to fall seamlessly.
In keeping with my retro classic-themed ensemble, I wanted to keep the casual vibe going with a pair of Adidas Originals Campus Sneakers. In soft textured suede, this classic 80's style sneaker adds a bit of fun to my look, while keeping me in absolute comfort.
Every so often any girl about town needs a large tote bag for everything from shopping for veggies at the farmer's market, to taking your favorite bottles of rose' to a bonfire. The Barney's New York Shopper Tote is extra roomy, and it's grained leather texture adds a bit of polish to my casual look. In flame red, this bag says I'm all girl… even though my ensemble is a little tomboy.
So remember my Dears, when putting together an ensemble with this season's hottest trend, you can borrow from the boys for a classic, effortless look.
Well, I'm off to raid the closet of a stylish handsome friend! I hope he likes marshmallows!
Cheers Loves,
XOXO, Hildie