Years ago I won a writing contest sponsored by Saks Fifth Avenue. The prize was a Cartier Tank watch, and when it arrived in the mail, I was so disappointed, I called Saks and asked if I could return it. They graciously cut me a check instead, which I spent on an aluminum Grumman canoe.
I'm just not a jewelry person. I don't wear much myself, and most of what I wear is costume. Fine jewelry is just too … fine. In other words, I think it's boring and predictable. It doesn't interest me the way that shoes and artwork and chairs do.
Even vintage jewelry doesn't really float my boat. I am prejudiced against the patina of time that coats estate jewelry, especially timepieces.
But then last week, lightening struck. I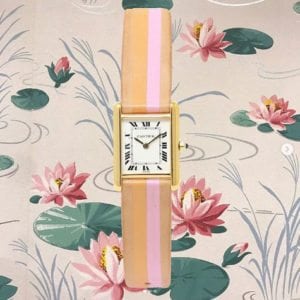 saw this watch (left):  a Cartier Tank watch that has been "repurposed." Now that is not boring. And it is too fun to be intimidating. Oh my, I got goosebumps!
The company is LaCalifornienne, the perfect name for two L.A. based designers who perform some Hollywood-style plastic surgery on stuffy old timepieces. Founded by Leszek Garwacki and Courtney Ormond, the pair search out vintage Cartier Tanks and Rolex Oysters and take them apart. The watches get a freshly painted face, new markers, and a rainbow leather band.
This is no restoration. This is reinvention. This is a Jennifer Aniston nose job. A traditional Cartier Tank watch that no one would be ashamed of is now ready for a life in Malibu without Brad Pitt.
For my part, the new version makes me smile in a way the original version never could. I'd definitely wear this watch while paddling my Grumman canoe.